New York restaurant Saxon & Parole is launching in Auckland next year. We caught up with its owners, the directors of the global and highly lauded interior design firm AvroKO.
Urbis: What is the most significant design element that affects a person's dining experience?
William Harris: Lighting is one of the most impactful elements in a space that can affect one's overall experience. It can single-handedly change mood or vibe and create certain impressions that can make or break a dining experience. And when everything feels right, the food and drinks just taste that much better.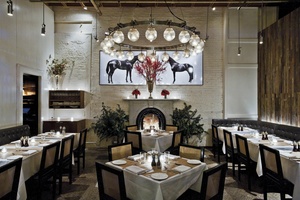 Urbis: Which project are you most proud of and why? 
Kristina O'Neal: It's hard to choose just one – Saxon & Parole has to be on this list because it has been a labour of love and we were so lucky to be surrounded by such supportive friends and family, literally helping us build and run the restaurant over the years. We are also thrilled to be bringing the family feel of the project to New Zealand!
Urbis: You work in over 14 countries, how will your upcoming projects in New Zealand fit with the local context?
Greg Bradshaw: We are very diligent about incorporating local elements into the concept and cuisine – be it specific to the country or city or, at a more granular level, to the neighbourhood or street the venue is situated in.
With that in mind, Harbour Eats [the AvroKO-designed food hall due to be built in Auckland's Comercial Bay development] was influenced by the history of the area, drawing inspiration from both European settlers as well as the indigenous Maori peoples.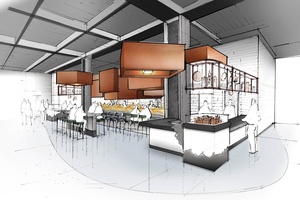 These two interwoven parts of New Zealand history drive the conceptual framework for the two primary sides of the programme for Harbour Eats - what we are calling 'The Exchange' and 'The Fire.' 
The Exchange area of Harbour Eats is comprised of a series of small vendor stalls, often changing week to week or month to month, densely laid out to channel the spirit and frenetic energy of the early European traders who operated in Commercial Bay. It's laid out on the perimeter of the space, with the larger counters of The Fire, literally and figuratively, the central heart of the food hall.
Drawing inspiration from the Maori tradition of the long burning fire, individual vendors are joined by central fires on which most of their [food] will be cooked. As such, these shared fires will need to be lit and tended by co-operative groups of chefs, honouring the spirit of community that has graced New Zealand for thousands of years.