Laust Norgaard and Lisbeth Jull had spent a quarter-century on the water, most of those years living with their daughter in a large modern houseboat moored closer to Copenhagen's city centre on Christianshavns Kanal. Then, in 2010, looking for a change of scene, the couple came ashore and bought an apartment. When their daughter moved out, the couple decided it was time to downsize. Adhering to a 'less is more' imperative, Laust and Lisbeth designed a home that would be low-maintenance, yet comfortable to live in, and able to contain and display their most cherished objects.
But, the lure of the sea proved irrestsible. So, instead of being situated above a quiet cobblestone street in Copenhagen, this aquatic iteration of a small apartment is located on Ved Slusen (literally 'The Sluice'), a small lock in the city's South Harbour.
The 80m2 structure lies on a 105m2 pontoon. The houseboat has been divided into five distinct spaces: bedroom, bathroom, a central hallway that bisects the interior, main living area, and a wide waterfront terrace.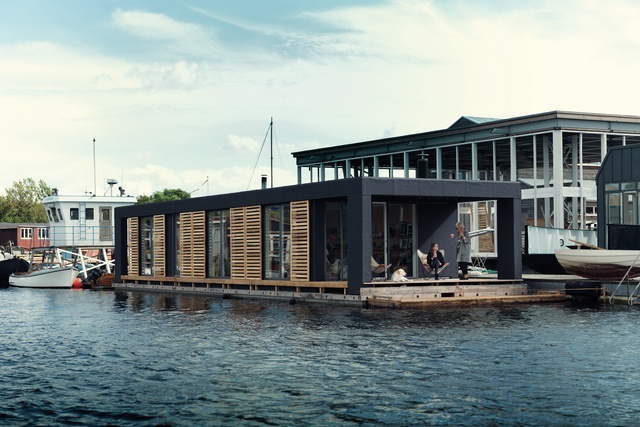 "The challenge was not in designing the houseboat. The challenge was selecting from our possessions only those things that we loved and that would fit into our new home," explains Laust, a professional shipbuilder.
Admitting an abundance of glimmering light, reflected from the water, was a key design driver. To that end, the hallway effectively cuts straight through the structure and full-height glass doors book-end the passage. The rooms, too, feature full-height windows to the exterior. These fenestrations allow natural light to penetrate throughout the living spaces, as well as keeping the water, and the city lights beyond, an ever-present view.
A typically Scandinavian aesthetic imbues the interior. Pine plywood, with a clear varnish, has been used for the room partitions – the subtle pattern of woodgrain and knots adds an element of texture and warmth, mitigating the cooler tones of the white-grey paint and the pale blue water. Underfoot, a low-maintenance epoxy floor is well-suited to the marine environment.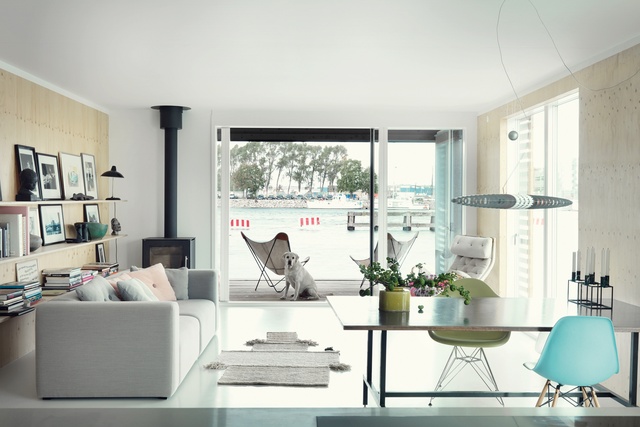 The main living space also contains the kitchen and dining areas. A black island-module kitchen by Danish design firm Vipp anchors the internal side of this space. The entire unit is raised on legs, which lightens the visual impression, and a sink and five-zone induction cooktop are integrated.
Behind the kitchen, and along the internal walls of the space, custom shelving allows the couple to store and display books, art and collected objects. Similarly, one wall of the hallway is lined with shelves and built-in cabinetry.