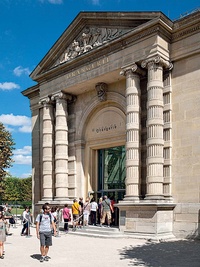 "Life moves pretty fast. If you don't stop and look around every once in a while, you just might miss it." Sartre, Hemingway and Joyce may roll over in their graves at the notion of a Ferris Bueller quote being used to describe their great city, but c'est la vie; Parisians know how to move fast and how to slow down. They're so brisk, they don't wait for the Metro to stop before pressing the door to open and so escargot-like you could be sitting at a restaurant for 45 minutes before you obtain a 'Bonjour' and a menu.
There are other contrasts in the City of Light too. Waiters wear bow ties and tails to serve steak frites in view of the Eiffel Tower, while hipsters wearing A.P.C. brew Ethiopian coffee just off the canal in the 10th arrondissement. For every Renoir painting hanging in the Musée D'Orsay, there's a mosaic sneakily installed on a building by French street artist Space Invader.
Whether it's winter and the streets are snow-covered, or springtime and the parks are littered with lilacs, there is really never a bad time to visit Paris.  Years ago, the creative elite – from Gertrude Stein to F. Scott Fitzgerald and Matisse – hung on the Left Bank at famous spots like Café de Flore and Les Deux Magots. Today, artsy types hoping to become the next Coco Chanel or Joël Robuchon are on the Right Bank in the Haute Marais toiling away in 21st century cafés.
In and around the 'upper Marais', the heartbeat of the world's fashion capital, you'll find designers like Stella Cadente decorating the Hotel Original, which offers guests a taste of a Wonderland even Alice couldn't imagine with its whimsical décor. It's also here, where the 3rd and 10th arrondissements meet, that movie director David Lynch opened the subterranean, semi-private club named Le Silencio, and chef Gregory Marchand serves non-French food like fish 'n' chips at his ironically named Frenchie. Meanwhile, along the nearby Canal Saint-Martin, très hip 20-somethings sit and watch the sky slowly turn Monetlike pastels at sunset.
Come for the fashion, for the food or just to stop and look around. Whatever your pleasure, there's no missing the fast and the slow in the City of Light.