Described as "the hottest ticket in town" in the New York Post and as "a dead ringer for Linguini from Ratatouille" in the Gothamist, 22-year-old cook Jonah Reider flew in to host a one-day pop-up restaurant in Auckland. Pith by Mini is a supper club for six people in a tiny apartment in the Merchant Quarter, New Lynn, as part of his 'Pith, Down Under' tour, which also included Sydney and Melbourne.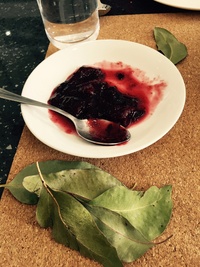 Reider's event began with a pomelo stone pine gin garnished with lemon myrtle meringue, followed by handmade rye bread with churned butter dipped in seaweed and an unbelievably delicious plum jam scented with strawberry gum leaf (the Australian eucalyptis olida). This was followed by oysters drizzled with pomegranate and mulberry-infused apple cider vinegar, then handmade ravioli filled with wild mushrooms and macadamia nuts doused in a rich roasted leek broth.
The main was lamb chops with mulberry, pepper and manuka honey relish, parsnip puree and micro radish and the dessert, a European-style butter cake, baked upside down with caramelised early-harvest strawberries with a hint of bergamot oozing through the cake, and a hefty quenelle of cream on the side.
Clearly Reider is a young talent on the rise, first gaining a media following through his supper club Pith, which he ran out of his dormitory room at Colombia University in New York, where he was studying sociology and economics. Even though the college kicked him out of the dorm for fear that he might make someone ill or worse in his uncertified restaurant, his reservations list is now over 1,000 with each reservation for four people, so he might be busy for some time.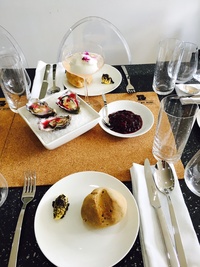 He has finished his studies for now and the young cook professes to enjoying experimenting with work combined with play and community. He states that he didn't make money out of the supper club: "I only charged US$15 per head so it covered costs basically. I did it to learn to be a better cook."
Experimentation with combining unusual and interesting flavours is evident in Reider's food and he gained some notoriety when he created a supper club of cannibis-infused snacks, featuring dishes such as cardamon, salsify and sour milk ice creams topped with cannabis caramel, cannabis rhubard compote and cannabis pistachio meringue.
Reider is enjoying travelling as much as possible and hosting pop-up restaurants whenever he's invited. "I like to use local ingredients as much as possible because they're like a portal to where I am," he explains. "I'm interested in learning about foods from different places and am looking forward to exploring what New Zealand has to offer."