A small, 1920's apartment on a Californian beach is restored to its original. Mark Haddawy explains the process, pedigree and highlights of this little gem.
This modest, Californian beachside apartment was designed in the 1920s by Austrian-born architect Rudolph Schindler. The architect was a strong figure in American modernism although his work was somewhat overshadowed by that of his friend, business partner and, later, enemy Richard Neutra. Mark Haddawy, who has mostly focused on mid-century architecture, says that the home is an absolute rarity.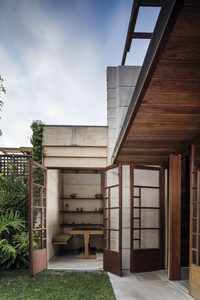 "There is not a lot of '20s modernism in L.A. You have a handful of Frank Lloyd Wright houses, the four or five textile block houses, the Arts and Crafts Movement, those Green and Green homes, but I have never worked on a Schindler before.
"The property was purchased by a client that I do a lot of work with," he says, "and it had been changed a lot. Part of the issue was that the concrete had a lot of damage to it and this was mainly about trying to repair the surfaces of the concrete and still make that feel convincing and not like a skim-coated thing. That was the biggest sort of monolithic challenge.
"One argument that I hear over and over again and which is something that drives me crazy is someone saying 'well if the architect was working today this is what he would do because this is what is available now. These materials weren't available then or this wasn't around then or the ability to do this…' I think that is a terrible idea and a terrible approach to historic restoration.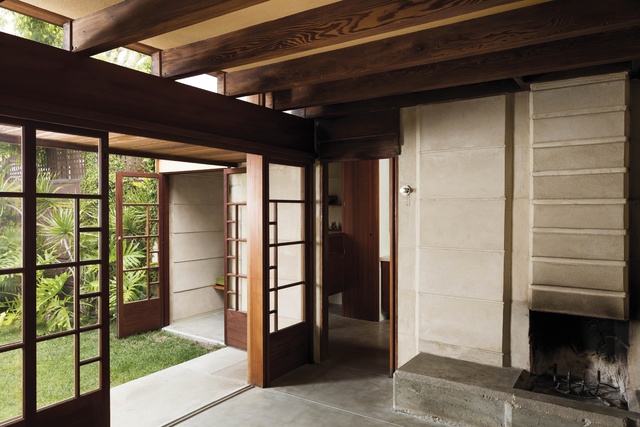 "It is not unlike restoring a painting. If you take a Picasso to restore it, you hope they don't decide to change the composition. That was his composition. The restorer is there to be as invisible as possible."
Fortunately for this apartment, the Picasso effect was too strong to ignore. "The nature of how the house was built meant it didn't lend itself to having had walls moved. It just wouldn't have been possible… there was a certain permanency to it."
Fixtures, however, had been changed drastically throughout this home's life, colours had been splattered onto timbers, but the great Schindler gestures remained. According to Haddawy, one of the things that made this 'jewel box' so pleasant to work on was both its size and materiality.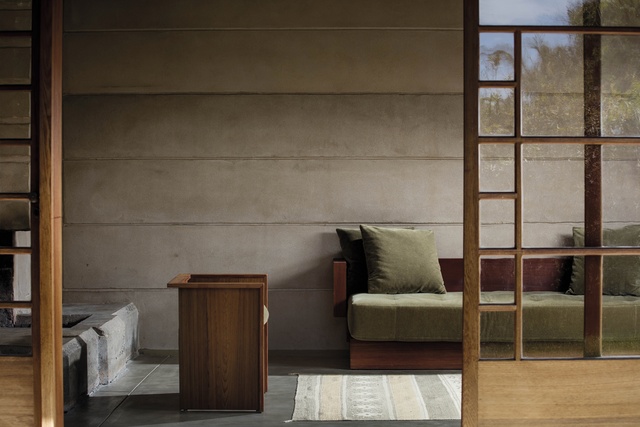 The material palette consists solely of concrete, glass and Redwood ("we chose old growth Redwood which has that deep, almost purple colour" says Haddawy) and the footprint is a mere 130m2. Inside, the space is cave-like, echoing perhaps Schindler's 1912 manifesto in which he said: "The feeling of security of our ancestors came in the seclusion and confinement of his cave."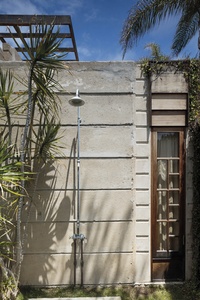 And yes, the 12 units have been praised for their seclusion; privacy and sightlines have been highly considered to maximise beach views and open-air living regardless of proximity to neighbours.
The layout was and continues to be one of the biggest highlights of this Pueblo Ribera apartment complex. Masonry walls of one unit serve as garden enclosures for it neighbour. There is an inherent economy in every gesture while including three living spaces: indoors, an enclosed court and a roof terrace with an external fireplace.
Instead of creating internal stairs, the architect also opted for external ones in what some critics have seen as inspired by local Native American ways of building.
"The idea of living outside and having a fireplace outside was very unconventional. He was responding largely to California and the climate and the way one could live here," insists Haddawy. "Schindler had a real bohemian sense at that point. He was certainly removed from the traditions of living and building of the era."