Luxury living in Queenstown
Queenstown is dominated by the brooding mountains that encircle this world-class holiday spot. Most houses – in particular those taken to by architects – reflect and respond to this rocky, angular landscape. And this house, you would assume, is no different. Indeed, its undulating triangular form, made even more distinct by a seamless skin of thin cedar boards, seems to be mimicking the mountains even better than most.
Even though this project did take cues from the surrounding landscape, the inspiration came from a much lower-lying element – the river. The Shotover River twists alongside the house, and Christchurch-based architect Thom Craig was fascinated by the way the form of the river changed as the tributaries knitted through sandbars and streams. He says, "The idea of the braiding of the river became interesting in planning the house. By cranking the plan, by braiding it, it broke up the house and refracted the land."
The resulting plan entwines around its site, forking off in two directions at the entry, doubling back on itself to form a central courtyard, and bending itself to maximise the light, while also providing moments of shelter and relief from the wind. Not only is there a horizontal similarity with the braided arms of the river, but this weaving and fracturing has been drawn into the vertical elements to create differing ceiling heights with aslant corners of roof.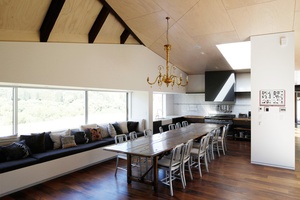 The house sits backed up against a grey rocky cliff as an object in the landscape. This has been made even more overt by the use of cedar as a rain screen that slides over the entire form. Walls, roofs and decks flow into one another. Craig explains, "There is a macro and micro sense of the house. In the micro – when you're up close – you see the texture of the house, its patina. Moving away, the detail melts into a single simple form that reflects the surrounding landscape."
The clients wanted to create an eclectic character and drove much of the interior design. The interior spaces are framed by distinctive architectural elements of folded plates of plywood, timber beams and triangular white walls. Their fractured appearance draws in the outside forms, however, the disparate elements together read quite differently to the seamless skin of the exterior, and provides a welcome foil to the uniform façade. 
With a strong interest in art and design, the clients have masterfully pulled together a collection of found objects, design pieces and rustic furniture in a space that is both contemporary and textured. Aluminium 1006 Navy chairs surround a solid timber table, leather armchairs huddle close to the schist fireplace and sleek David Trubridge Glide recliners balance on the deck outside. The result is a home that is imbued with the atmosphere and comfort of a luxury lodge, all the while uniquely sheltered under a modern, folded design.