Sony Bravia A1 Oled TV launches
Urbis attended the launch of Sony's Bravia A1 Oled TV in Sydney's Carriageworks. Organisers had transformed the event space (a stunning heritage industrial space that once served the city as its railway carriage and blacksmith workshops) into two layers of experience.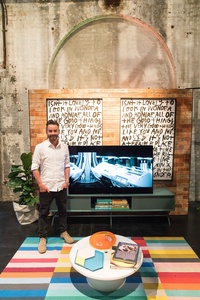 First was an arrival area which had been sub-divided into three rooms, each accommodating a small amount of visitors at the time and exploring a different highlight from the TV's design (such as colour and sound).
The layout of these spaces was in part labyrinth and in part escape room, but each interior explored the TV through multisensory displays and unique collaborations.
The inner sanctum of the event included another three open plan zones, each of them designed as a different living space and aimed at showcasing how the A1's design fits within a variety of interior spaces.
"The guys from Sony approached me to create three room sets to showcase how the TV fits seamlessly into any space," says Australian interior designer and author Jason Grant about these areas. "The room themes we ran with included inner city, bachelor pad and family."
Grant explained how the TV has been designed in a "sleek and modern" style that allows for flexible ways of integrating it with contemporary styling. The three distinct décors showed how the TV could command a stylish presence in spaces that range from casual/relaxed through to hip and urban. "The thing is we all have a TV and as opposed to trying to hide it, we can instead showcase it!" said Grant.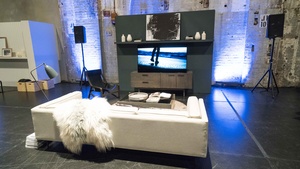 The TV's performance was also much explored at the event and our personal highlights included picture quality (OLED display with 8 million self-illuminating pixels) and sound – we were particularly impressed with Sony's new advents in this area.
The A1 launched Acoustic Surface, a technology that means the screen itself is a speaker so that sound and image are much closely bound. The sounds emanating from a character on the screen correlate directly with where they are located rather than an approximation on speakers placed elsewhere.
The Sony Bravia A1 Oled is now available in New Zealand.