When designer Eugeni Quitllet talks you get the sense he could have been a philosopher or motivational coach. In our 30 minutes together, he peppered the conversation with affirmations like: "Everything started to happen the moment I let things happen," or "you can't stand still, you must jump into the void" and "the future is expanding so you can go in any direction." 
Eugeni's infectious and expansive positivity translates into much of his work.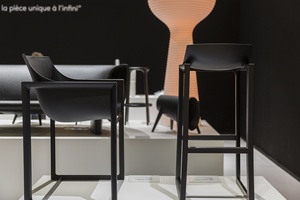 As a child growing up in Ibiza, Spain, Eugeni would sketch from morning to night and make his own toys. In his 20s, he studied design and interior architecture in Barcelona and kept creating and drawing. His first product was a candle he called the Sandal Candle. "It was in a carton tube. It was this candle that would go on the beach, and it would be lit and the candle slowly disappears, creating a memory. The idea was I wasn't designing an object, but creating an instant," he says. 
Eugeni continued to create and exhibit but found paid work difficult to come by, so he chose to travel instead. Before he could get too far, he heard a rumour that Philippe Starck was living on the nearby island of Formentera. Eugeni took his drawings, rode his bike around the island, found Philippe's house and knocked on the door. From that moment, they collaborated for 10 years.
"Working with Philippe gave me the tools to learn how to realise all my images and huge ideas, and the trust from companies to make these products," he says.
Much of Eugeni's work, during and after his self-described 'cool-aboration' with Philippe, is influenced by the future, travel and space.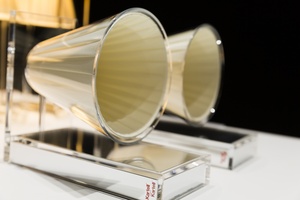 His most recent project is the Dream Catcher, which he showed exclusively at the 2016 Maison&Objet show in Paris, where he was named Designer of the Year. The result of a collaboration with aluminium company Neal Feay, the Dream Catcher is a sleek ocean-blue lounge chair made from a single piece of aluminium. Eugeni hopes that the chair helps people "stretch out, dream and project themselves into space". 
Eugeni's products also reflect a tension between empty space and structure. "I work a lot with the void. I like to put frames around objects to define a space and create emptiness around it," he says. This is evident in his Shine vases and Light Air lamps for Kartell. 
His new Stone chair for Habitat also plays with empty space to create an elegant silhouette. For this project, Eugeni designed two stone-like shapes for the seat and back, which are contained and connected via a surrounding tube. While the chair looks like it's made from a number of separate elements, it's in fact one injected-moulded piece of plastic. 
Eugeni has designed everything from in-flight cutlery to headphones, so I have to ask him what is planned for the year ahead. He answers, of course, philosophically: "I don't know where I'll go or what I'll do. Let's see what the Dream Catcher catches."