Technophile: traveller's little helpers
Behold this treasure trove of travel technology. These road gadgets might have been unimaginable just a few years ago, but now they'll be competing for space in your suitcase (except for the one that's actually a suitcase).
Hudway Glass
Finally, relief for beleaguered travellers as they squint at their smartphone, which is precariously placed on the dashboard of a rental car in a strange land.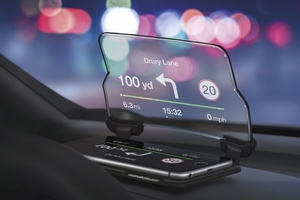 We've all done it – but Hudway Glass wants to make sure we don't have to any more. A staggeringly simple idea, Hudway Glass turns any smartphone into a heads-up display.
Physically, Hudway Glass resembles a smartphone case, with dashboard mount below and high-quality reflective but transparent glass above. The glass throws an image 20 percent bigger than your cellphone screen right into your field of view.
Hudway Glass – $75 – hudwayglass.com
PowerVision PowerEgg
Traveller-types have become increasingly hungry for new and interesting shots to post to social media. Thankfully drone technology is stepping up to this challenge, and a portable aircraft is now part of the camera arsenal carried by some 'grammers, 'chatters and 'bookers.
The PowerVision PowerEgg is being touted as the ultimate travel drone. You could say it's an aesthetically intriguing product that steers away from the norm of drone design.
This egg-shaped aeronaut is incredibly easy to pack, and when it breaks open to reveal its quad copter blades and little legs, it looks as 80s sci-fi AF.
It sports a 4K video camera that works through 360 degrees – and is kept rock steady and smooth on a three-axis gimbal.
It features one-touch takeoff, one-touch return to home, and automated 'follow-me' and 'orbit' modes, which means it's the flying selfie stick you've always dreamed of.
PowerVision PowerEgg – $1775 – powervision.me
The Dash Pro earbuds by Bragi
A lot of wireless earbuds have hit the market in 2017, but the Dash Pro stands out from the crowd.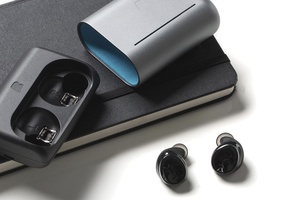 As a set of in-ear headphones, The Dash Pro has a devastatingly good sound, noise-cancelling properties and lots of other goodies, like in-ear heart-rate monitoring and gesture recognition.
It has the best form factor of all the wireless in-ear headphones we've tried – and we've tried a lot – sitting flush with the entrance to the ear canal and feeling quite natural when inserted.
But The Dash Pro's party piece is a staggering prospect for foreign travel – it can listen to foreign languages, and translate them for you in real time. It can do this for up to 40 different languages by working in conjunction with the iTranslate app (subscription required).
If you have one set of The Dash Pro, the other person speaks into your phone – but if you have two sets, the process is completely seamless, with each person just wearing the earphones and talking in their respective language – with the intelligent headphones and the app doing the rest. 
The Dash Pro by Bragi – $580 – bragi.com
BlueSmart Cabin 
Of course, it was only a matter of time before the humble suitcase got a technical overhaul – and the Bluesmart suitcase is it.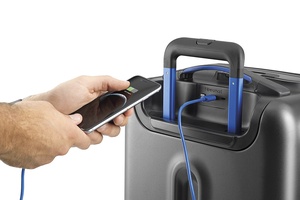 It's marketed as 'the iPhone of suitcases' – but don't let that terrible comparison put you off. As the Bluesmart name suggests rather unsubtly, these techno trunks are equipped with Bluetooth.
In this case, the 'tooth enables a wireless smart lock, and also alerts you if your bag travels too far away from your side. It also has its own GPS locator - which will tell you exactly what part of Mauritania your bag ends up in when the airline loses it.
Bluesmart luggage also has a built in battery with USB interface, which carries enough juice to recharge your devices up to six times. Available in check-in and carry-on sizes. 
BlueSmart Cabin. 22" – $447 and Check 29" – $516  – bluesmart.com 
BeeLine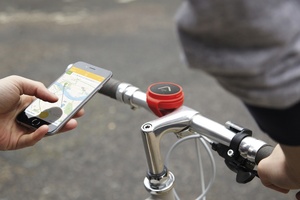 And last of all, a clever little device that does something similar on a bike. Beeline wants you to stop fiddling with your phone and concentrate on the handlebars – which is exactly where it mounts.
Once you've set your destination on your smartphone's navigation app, Beeline will keep you on the straight and narrow, providing simple but effective turn-by-turn directions.
None of the fluff and none of the distraction. It comes in a range of very cool colours too. 
Beeline – $180 – beeline.co