How long does it take to establish a car brand from scratch? Judging by the efforts of premium Chinese brand Qoros, whose design department is led by ex-Mini chief designer Gert Hildebrand, only about five years and $1.6 billion. Its factory is capable of producing up to 350,000 units per year, although you have probably never seen one.
By comparison, US electric carmaker Tesla has enjoyed a slightly longer gestation period and if you live in a large Australasian city, I'll wager you have already passed a Tesla on the road. Soon, you can expect to see one most days, as Tesla prepares to unleash the Model 3, its first mass-market car.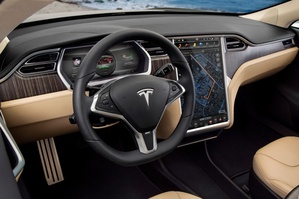 The newcomer has already brought more kudos to the brand and generated an incredible response from consumers. Tesla took more than 300,000 deposits for the car in the week following its California reveal, even though the Model 3 won't go on sale until late 2017. By this time, the company says it will have vastly expanded supporting infrastructure, namely its global network of free Superchargers and servicing stations.
Tesla believes the Model 3 is the most viable and appealing all-electric prospect for a broad variety of premium car buyers, promising to combine luxury and class-leading space with genuine driver appeal and the elimination of range anxiety. It follows on from the low-volume Tesla Roadster, the initial headline act that garnered much cool in a quick time, and the pricey, modest-volume Model S saloon and Model X SUV.
This time, affordability is key: the Model 3 must be the accessible, volume-seller that will give Tesla the critical mass it needs to compete with the likes of Mercedes-Benz, BMW and Audi. In response, German rivals have developed plug-in petrol-electric hybrid models to combat Tesla, with all of them running four-cylinder turbo-petrol engines in tandem with electric motors for zero-emissions ranges of between 30km and 50km. But Tesla should offer an achievable range of 400km on a single charge of its lithium-ion batteries, all of which are supplied by Tesla's giant new Gigafactory.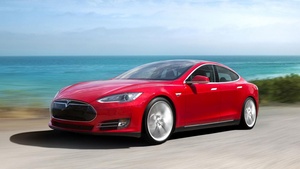 We can also expect the Model 3 to be a supple-riding, entertaining drive with an ability to romp away with an instant torque surge and swoosh down the road like a performance saloon.
The absence of an internal combustion engine greatly benefits packaging, with those up front sitting slightly further forward than normal, allowing three adults to sit comfortably in the rear. Like the Model S, this car also has a boot compartment front and rear, and a single-paned panoramic sunroof gives the cabin an airy feel.
We know that standard equipment will extend to large, tablet-style infotainment screens on the dashboard (as used in the Model S) and Tesla's latest autopilot self-driving features. The autonomous system enables a Tesla to steer, accelerate, brake and park itself and should be a boon for the kind of high-traffic driving to which many of us are now accustomed.