Kitchens embody all of our best intentions. For instance, my dream kitchen has a marble slab for making pastry. Functional, yes, you could argue that, but also, really, somewhat far-fetched considering I would make pastry half a dozen times a year if that. It can be a tricky waltz to figure out what will be practical while also being punchy. There is also the tricky balance between choosing something up-to-the-minute while simultaneously avoiding becoming bogged down in fly-by-night trends. For this reason, the white kitchen enjoys continuing popularity, and we show you some interesting tweaks to add some pizzazz to the pale. White is everywhere, though, so if you want something a bit different black is both elegant and dependable and is fast becoming a more adventurous neutral for contemporary kitchens. Colour, especially in large swags of rich shades, can be timeless, classic and dramatic. The trick is to take a breath and hold tight to your confidence. Often when your initial bold idea for colour is played down in a moment of doubt, you end up with a result that is neither bright, nor neutral, and it falls flat. Take a breath and stay true to tangerine, avow yourself to aubergine and yell for yellow. These same colour cues carry on to bathroom design, especially as more people start viewing bathrooms as relatively small areas where they can make a big splash (excuse the pun). Floor-to-ceiling mosaics and tiles, often in vibrant colours, create an immersive retreat; bold, graphic wallpaper is being brought into powder rooms, and sculptural baths and basins create an aura of creativity and luxury in what used to be a simply functional space. In contrast, a return to traditional styling with 'antique'-like fittings, claw-foot baths and hand-glazed tiles brings a calm classicism to contemporary design. Natural materials continue to grow in popularity and rugged, rough and raw textures and materials – bare stone, slabs of marble and rough-sawn timber – create a rich backdrop for the bathroom. For kitchens and bathrooms, the best designs both inspirational and functional. We have found the best kitchens and bathrooms using innovative products, materials, layouts and colours to give you ideas.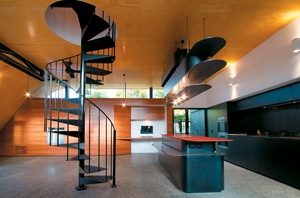 The Dark Side
Black, and its dark cohort of charcoals, deep browns and blackened navies, is a versatile colour. From moody to slick, black gives you a depth and boldness that few other colours can. The key is to vary the texture. Matte paint, glossy lacquer, rough steel, shiny tiles, translucent stain… you can build up a rich and complex aesthetic by keeping to a single dark tone but playing with the textures. In addition, or alternatively, the use of contrast will define and emphasise. The levity and function of the white marble benchtop against the dark tiles in the Airlie Bank house is emphasised. A red steel benchtop adds something more to the black kitchen in Hill House. The details, like black handles or black tapware, can make the black look seamless, making sure you draw attention to where you want it to be.
White Hot
White is fresh, clean and timeless, so it makes an obvious choice for bathrooms and kitchens. Yet white needn't be boring. In this Ian Moore bathroom, white was made dramatic by large mirrors that reflected the white and gave the room a sci-fi intensity. In the Marimekko House kitchen by Ariane Prevost, the all-white cabinetry was given a Mondrian kick with flush black handles. In the Prahran Residence, a white kitchen made use of a subtle change in material – the marble benchtop – to add depth to the white space, as well as different forms like the cylindrical rangehood and pops of unusual colour in the pastel dining chairs. White is a wonderful backdrop against which to experiment with form and shape. White sculptural baths and vanities look even more elegant against white, where light and shadow become paramount. If you are planning a white kitchen or bathroom, aim for as much natural light as possible to ensure the space looks fresh and airy.
Heritage style
Perhaps in response to the slick minimalism of many kitchens and bathrooms, heritage details and classic shapes in tapware and baths have found favour with many. Modern takes on traditional motifs aren't facsimiles of old styles, but combine contemporary technology with cleverly reinterpreted styles like claw-footed baths and softly curving gooseneck taps. You don't want your bathroom or kitchen to be a time warp, however, so combine these classic shapes with contemporary styling.
Natural Feel
A trend that just won't go away – and for good reason – is the use of natural materials. Solid timbers and stones both have beautiful depth, and the variety of textures from rough and rugged like the use of the cliff stone in Cliff Face House, to smooth timber, gives the designer a wide range of aesthetics on which to draw.
Touchy Feely
Beyond colour palette, beyond sexy appliances and an efficient working triangle, the most seductive kitchens and bathrooms use texture and materiality to great effect. Unfortunately, this is one of the most difficult things to get right. Layering different materials requires sophisticated imagining but, as you can see from these kitchens, when done well, the effect is impressive.