SKHY offers six different apartment types of varying sizes and shapes in four buildings, centred around a landscaped square.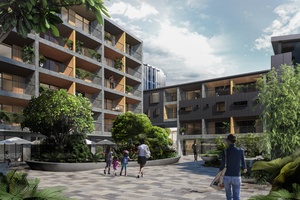 Cheshire Architects co-created SKHY with local developers Lamont & Co. The architecture firm known for its wide-spanning involvement in some of Auckland's best known and revered eateries and hot spots (including the master planning of Britomart) has brought its keen eye and sense of quality to the design of the buildings.
A 1970s office tower has been reconfigured to create the basis for the community of apartments. The building's massive concrete beams, columns and cantilevered concrete floor plates are highly visible and echoed in the new, adjacent buildings.
One of the apartment types on offer is spread over two floors, in a style inspired by Le Corbusier's Unité d'Habitation in Marseille. Another, dubbed Warehouse apartments, features a 3.5m high stud and is open-plan to allow for flexibility in terms of layout. Interior designer Emily Priest says the varied apartment types means they could take six slightly different approaches to the interior design.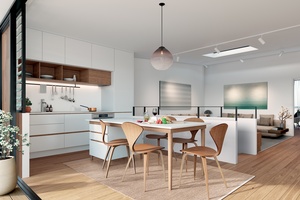 "We were able to create bespoke cabinetry that would feel special even though we were tackling an entire apartment block. We wanted to bring in warm timbers, natural stone and some really nice detailing to keep it as simple as possible but have a kind of jewel in there as well."
Outdoor terraces extend indoor spaces and provide plenty of light and views. The central square is designed by Damian Wendelborn, who worked with Cheshire on the design of The Pavillions at Britomart. A good number of the apartments face into the courtyard, so it is designed to be a leafy urban park for its residents and visitors, a place that will be well-used instead of standing empty.    
Designer Profile: 
We catch up with Emily Priest, the creative director at Cheshire Architects, who was in charge of defining SKHY's interiors. 
With credentials that extend to the design of downtown Auckland's Pilkington's, Waiheke Island's Tantalus Winery and high-end residences around the country, Emily Priest was an early pick to spearhead the interior design team on SKHY. She says the existing tower had some great elements that they wanted to take advantage of and echo in the new buildings.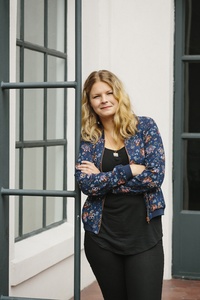 "The aim was to keep the essence of the original tower in the new build, and we did this by exposing the concrete structure and double-T beams where we could and by lifting the ceiling height, which tends to give even the one-bedroom apartments a spacious feel. Then to insert some warmth, we have timber floors, natural stone and lovely, detailed kitchen cabinetry."
She says the warehouse apartments in particular are very open spaces, and aside from the definition of the kitchens and bathrooms, can be laid out by the individual.
"They're given this beautiful timber box that is really flexible. You, as the owner, can impart your own thoughts, ideas and flavour into it."
Priest's personal favourites are the terrace apartments, which face into the courtyard and have a friendly, community feel to their design. She says the courtyard element was key to making this development special.
"Landscaping can bring so much joy and beauty, it just needs to be used more. SKHY is located in this spot that no one really considers as residential, but which is incredibly close to everything. By having this courtyard, the residents will have a haven from the hustle and bustle of the town, and it will be the best of both worlds."
Display suite: 11 Mt Eden Road
Opening hours: daily 11–3pm