Seated on the ridge above High Street, bordering the grounds of Old Government House and leafy Albert Park, residents of The International will enjoy expansive urban and harbour views from this 17-floor residential tower, which is set to be completed in 2018.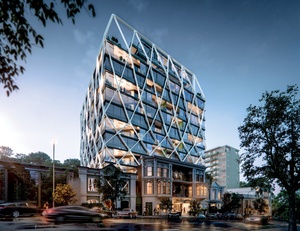 Leading architectural firm Jasmax has designed a striking white exoskeleton, which will wrap around the historic building's façade, squaring off its edges and providing conservatory spaces for the apartments.
To make urban life complete and foster a sense of community, a range of shared spaces and services will be provided, including a wine cellar, tasting room, dining room, outdoor terrace with heated pool, gym, library, concierge service and an underground carpark. The ground floor will also feature a café that will be open to the public.
Jasmax has teamed up with internationally renowned interior designer Rufus Knight, who returned to New Zealand from Belgium to lend his astute eye to the interiors. Knight has formulated a base palette of natural materials and colours for apartments, with timber and stone choices and a range of paint and surface options.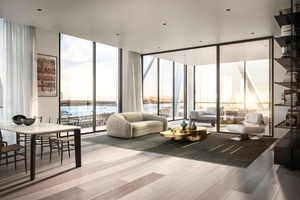 "Anything above and beyond that is up to the homeowner," he says. "The selection ensures there is nothing too jarring or contrasting there, so the building in its entirety is in keeping with a natural, neutral palette."
Italian-designed kitchens and German appliances are specified in the apartments, which also feature green walls on the terraced areas. The conservatory spaces on the corners of each floor can be opened up in good weather, and connect via wide sliding doors from the living area, expanding the available space.
By providing a high-end urban community living experience in Auckland, the developers, Sanctuary Group, hope The International will become a benchmark for city living in New Zealand.
Designer Profile: 
Designer Rufus Knight has been a key figure in the development of The International's interiors.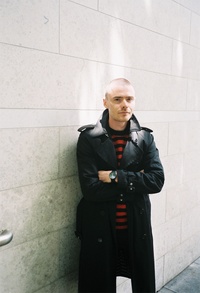 Aside from the pull for New Zealand's unique landscapes suffered by most of this country's expats, there had to be a good reason for the interior designer 'it' boy  to return home from a dream job designing for Vincent Van Duysen in Belgium – and this is it. He was working on high-end residential jobs in Antwerp and believes this level of quality has informed his approach to The International.
With 88 apartments to design, as well as public spaces, Knight has his work cut out for him, but how does he prevent such a great number of apartments from looking the same?
"The focus is on delivering a high-density model while trying to retain as many natural materials as possible. By doing that, you add personality and distinction to the interior spaces rather than them all feeling homogenous, because of the different textures and colours in natural stone and timbers."
Display suite: 9 Princes Street
Opening hours: Wed–Fri 1-2pm, Sat–Sun 1-3pm
Contact Jason Gaddes on 021 994 921 or Ross Hawkins on 027 4720 577 to view.