The young designer shares his thoughts on materials, inspiration and having a bit of fun with design.
Urbis: How did you fall into furniture design?
Tim Webber: I've always had a strong interest in design from a fairly young age and had initially thought I would study architecture, but I'm a very hands-on person and enjoy the making side of design – I find it much too hard to sit behind a computer all day! Furniture and sculpture is a great 'in-between' that lets me do both. So after studying a Bachelor
of Design I started my own design business mainly working in designing and making furniture. 
U: Your work segues between art and design, with some of your furniture pieces even resembling large sculptures. Where are the boundaries for you, between art and design?
TW: I find the boundaries between art and design are very blurred – one always seems to inspire the other. When furniture can sit in a room like a piece of art, yet have this dual purpose of being functional too, it gives people a whole different experience with the object. Because I make both sculpture and furniture, the ideas often seem to get intertwined and I sometimes end up with furniture that looks a bit sculptural. Mind you, I haven't had a piece of sculpture that looks like furniture yet … but there's an idea.
U: Many of your designs seem quite playful, whether in your use of colour or materials, is this something you are trying to portray?
TW: Yeah, I love injecting a bit of fun and humour into some of my designs. Furniture doesn't have to be, but is often, rather serious and predictable. I try to make use of different materials or bold colour to create objects that hopefully capture people's imaginations. With my Beachball chair it was fun to take an ordinary object and use it out of its usual context, giving it a completely different function.
U: How do you come up with a new design?
TW: I don't really have a set formula unfortunately, I wish I did! I usually start by finding all the loose bits of paper I've sketched on whenever a thought has come to mind, even in the middle of the night sometimes (I've actually dreamt a design once – looked and worked better in the dream, however). I try to combine these ideas and often take aspects of different designs to refine my loose sketches. With a rough concept in mind I like to get into the workshop and begin making prototypes to see if anything will work the way I imagined it. Discovering new ways of manufacturing objects can also be a great way of inspiring further work.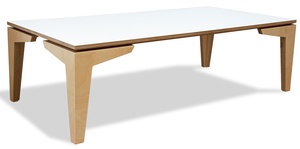 U: Do you design on the computer, sketch or make models?
TW: A bit of everything to be honest. I almost always start with the sketching to get my ideas out on paper so they don't continuously clutter my mind. Computer drawings are great for getting an idea of scale and form but I don't do so much creative developing on it. I'm a bit too impatient and I seem to just go all in and make a full-size prototype. It's through the prototyping stage that things really develop and you can begin to see whether or not a product is feasible for market.
U: Ply is a material that you use frequently, what do you like about ply?
TW: For one, I find the manufacturing of ply really fascinating, the way they peel veneers off a huge log like a roll of toilet paper blows my mind. The outcome of this process gives a stunning layered edge to plywood, which I feel is what makes it so unique. These layers also give it a really nice linear quality, which will always give it a totally different look to traditional solid woods. Ply is also super strong because of the way they alternate the grain direction of each layer giving it plenty of rigidity and making it great for furniture. Also the ply I use is all from a renewable resource – and that's always a good thing. 
U: Who are you inspired by and why?
TW: There are so many talented designers out there these days doing amazing work, but the two who really inspire me would be Tom Dixon and Benjamin Hubert. Both these UK designers are better described as industrial designers working in the field of furniture and lighting. It's their industrial feel and use of unexpected materials, like concrete lampshades and pressed felt, that set them apart from the rest. They always seem to be working so fast too!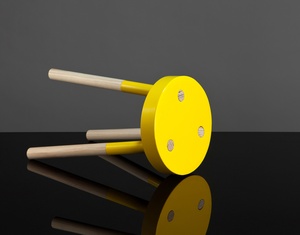 U: Is there something different or unique about New Zealand design?
TW: I think New Zealand designers know how to create objects for New Zealand people. We know the New Zealand culture and lifestyle and often accommodate that in our designs. In some ways I think our distinctive landscape is a significant inspiration to Kiwi designers. The uniqueness of New Zealand design is really beginning to appeal to the international market also, with the likes of David Trubridge, Simon James and Jamie McLellan creating works that demonstrate that we can in fact produce quality design at an international standard, and I think that's something to be really proud of. 
U: What are you working on at the moment?
TW: Amongst making my plywood furniture and beginning to manufacturer my new WM (Wood/Metal) series of works, I'm currently creating some large 'chandelier' type light fittings made by fusing individual metal spun pendant lights into one big structure. I'm hoping they'll be quite spectacular when they're finished! I've also got a number of sculptural ideas I'd like to follow through, but there just never seems to be enough time in the day.
timwebber.co.nz