Samsung Electronics New Zealand invited three young New Zealand artists – Amy Blinkhorne, Ayesha Green and Danial Eriksen – to showcase their work at the launch of its latest lifestyle TV, The Frame. We went along to the launch at the Gus Fisher Gallery in Auckland last week and caught up with artist Ayesha Green and group marketing manager at Samsung Electronics, Adam McElroy.
Adam, why these three artists in particular?
Adam McElroy: We wanted to work with local artists who were interested in the challenge of creating, or preparing existing work, for TV. We liked the idea of exploring with the artists how different mediums would translate to The Frame. All three artists deal with different subject matter and their ideas translated into very different works. We think the guests who attended the launch event really enjoyed the selection of works the artists submitted.
Why was it decided to make static art rather than moving images or multimedia?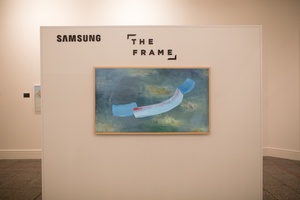 McElroy: We wanted to demonstrate the Art Mode functionality of the TV – this is a unique feature of The Frame, which presents a still image in a similar fashion to how you might display a photo, or a work of art, on a wall.
There are so many new digital platforms (like the Frame and the art subscription service) for traditional artforms, what do you think these technologies can provide artists?
McElroy: As this is a very new concept only just launched by Samsung, that's a question that needs more discussion within the artistic community. However, we are keen to work with artists locally for content for The Frame. The Frame is a product available globally, so there is an opportunity for artists to make their works accessible via the Art Store to audiences in NZ and beyond.
In terms of the New Zealand customer, The Frame offers a solution for those that want a less intrusive design for their TV. Even when turned off, The Frame looks great thanks to the Art Mode, and can be completely personalised with your own photos or artworks. We think this will really resonate with professionals working in interior design, and design-conscious consumers.
Ayesha, did you approach this commission differently compared to how you would your own art?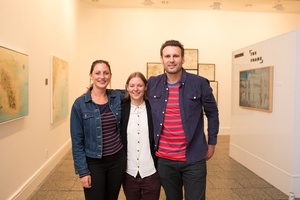 Ayesha Green: Generally the way that I work is by thinking about historical representation in terms of painting. However, for this project, I considered historic representations of video art because it was going to be presented on a TV. I wanted to explore the links between video and painting, or ideas about video art and its relationship to the frame. 
 I was inspired by Valie Export's work: Facing a Family (1971), in which the artist interrupted live broadcasting with a video work of a family at the dinner table eating. The idea was that the video work mimicked what families were doing when watching TV, so there became this mirrored loop.
Video artists of the 1970s' were playing with that idea of the screen, thinking about the viewer and the viewed, and trying to break those boundaries. In my work, I am thinking about what television is doing now, today. The way television is in our lives and in our homes has changed, and how we interact with the television is very different. In my works I think about this while exploring different "scenes" of consumption.
Did it make you think of your technique in a different way?
Green: The way I paint is generally very flat and illustrative, so I was interested to see how that would translate into a digital format, and how these techniques would be enhanced by The Frame. I was more interested in seeing how The Frame might enhance my work, as opposed to adapting my techniques to fit The Frame.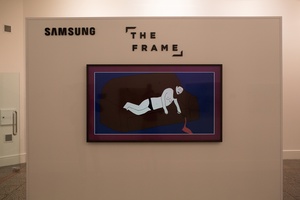 How do you think people who collect your work would react to this collaboration? Do you see it being an integral part of who you are as an artist?
Green: I think what the Frame represents as a context for exhibiting artwork is that there's more opportunity for my work potentially to be in more people's homes. Traditionally in a gallery setting, the audience of the art is limited to those who have a deep interest in art. With the launch of The Frame, there's an opportunity for art to become more accessible to a broader audience than ever before, which is great! Traditionalists would find this challenging.
What convinced you to do it?
Green: The project presented a great platform to try some new ideas! It presented concepts that I don't normally work with, and I knew these concepts would allow me to think beyond painting in a way that I hadn't addressed before.
What do you find exciting about The Frame?
Green: What's exciting is the relationship it creates with its audience within the private space of your own home. I feel like The Frame is changing the way we treat art work in the private space, because of the accessibility it provides.