It's the first rule of Vancouver: don't talk about the rain. Canada's third-largest city averages around 175 days of rain a year, which could explain why its nicknames include Wet Coast and Brollywood (a nod also to its role as the second-busiest film location in North America). 
But all that precipitation means Vancouver really rolls out the green carpet: it's a city of 250 green spaces, including Stanley Park, which boasts the world's longest, uninterrupted waterfront path and is, as the locals never tire of telling visitors, larger than New York's Central Park.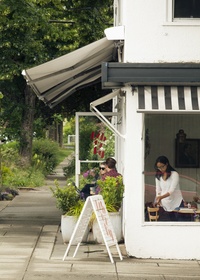 Accordingly, there's no shortage of outdoorsy, sporty types flinging themselves around this city on foot, by bike or skis (Whistler, the nearest ski-field, is 125km away). Vancouver hosts more than 1,500 yoga classes a week too – not bad for a city of around 600,000 people. Appropriately, the popular active/yoga-wear label, Lululemon, had its genesis here.
Hemmed in by snow-splashed mountains, the Pacific Ocean and the US border, Vancouver is also like catnip for the tech, design and film industries. 
Companies such as Hootsuite and Flickr began here, as did Lionsgate Films. In fact, if Vancouver seems familiar it's because it probably is: everything from 50 Shades of Grey to X-Men was filmed here. 
Many creative industries are clustered around Gastown – Vancouver's oldest suburb – where hip meets heritage. Established in 1867, Gastown was recently named the fourth most stylish neighbourhood in the world.
You'll never go hungry in Vancouver – more than 3,000 restaurants and cafés will make sure of that. But you can't leave without trying poutine (pou-teen). Basically French fries all dressed up, this calorific concoction of potatoes, cheese curds and gravy is often called a "heart attack in a bowl". But it's utterly delicious.
Vancouver Insider's Guide
Places
Granville Island: Not an actual island but a peninsula where Vancouver's top chefs source local ingredients at world-class produce and gourmet markets. There are also numerous artisans and craftspeople selling their wares throughout the island. You can drive there but it's more fun to take an Aquabus, which crosses False Creek in five minutes.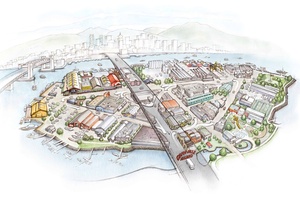 South Main (SoMa): An array of independent clothing, jewellery and homeware boutiques. If vintage is your thing, this is the place to come; the neighbourhood features condensed blocks of vintage and antique finds, including the area's largest consignment store, Front & Co. Further along Main Street is Antiques Row, where stores specialise in furniture and fixtures, including art deco pieces.
Kitsilano Beach: Those in the know refer to this popular suburb as Kits and the stretch of sand at its northern tip as Kits Beach. It's one of the city's most popular beaches and is surrounded by parks, playgrounds, basketball and tennis courts and the largest outdoor pool in the city. Nearby 4th Avenue is a yummy mummy's paradise with numerous organic eateries.
Butchart Gardens: Two-and-a-bit hours from Vancouver lies 22 lush hectares of every flower and shrub you're ever likely to see. It's hard to believe this sunken garden was once a quarry and cement manufacturing plant. 
Eat & Drink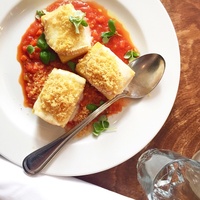 Beach Bay Café: This popular eatery goes heavy on the seafood as it's located just steps from English Bay Beach. It has one of the best views in the city and its partnership with Vancouver's Aquarium means that all the seafood is sustainable. 
Ask for Luigi: A casual and intimate Italian-inspired restaurant specialising in handmade pasta and huge, family-sized portions, with all dishes served in the middle of the table. Since opening in 2014, this quirky eatery has been nominated as one of Canada's best new restaurants. 
AnnaLena: This is the brainchild of artist, designer and fashion-lover Chef Mike Robbins. An anchor of the fashionable Kitsilano neighbourhood, its food is influenced by Vancouver's melting pot of cultures, flavour profiles and techniques. 
Galleries & Shops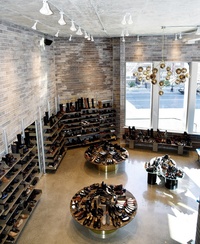 Hot Art Wet City: Located in the hip SoMa district, Hot Art Wet City Gallery does double duty as a contemporary art space and community space that hosts comedy shows, workshops, seminars and even burlesque sketch classes. 
Rennie Gallery: Headquartered in the Wing Sang Building, Chinatown's oldest building, the Rennie Gallery features mogul Bob Rennie's private contemporary art collection (the largest in Canada). 
Gravity Pope: Where you go to fill your wardrobe with labels from Acne and Paul Smith to Jil Sander and Camper. This funky clothing and footwear store in Kitsilano is a favourite with well-heeled residents. 
Old Faithful: This Gastown institution is built on the belief that the best products are the Old Faithful ones: trusty, well-built heirloom pieces which are classic in design and enhanced by the passage of time.