The art deco hotels and condominiums of Miami Beach have become a key part of the architectural fabric of this vibrant, oceanfront city. A 1926 hurricane devastated the Florida coast and spurred a building boom that saw a fresh wave of Deco designs. Individual Deco mansions, however, are something of a rarity and seldom come onto the open market. So when Stephan Weishaupt stumbled across an Art Deco house in a quiet quarter of the city, he could not turn down the opportunity to take it on.
Born and raised in Munich, Weishaupt is now based in Toronto, where he co-founded furniture company Avenue Road in 2007. He represents collections by his business partners George Yabu and Glenn Pushelberg as well as an impressive list of other designers, including Christophe Delcourt, Paola Navone and Piero Lissoni.
"I started coming to Miami around 2001," says Weishaupt. Yabu and Pushelberg " …had a place here so I would come and see them and other friends. Miami really became a go-to destination for me over the years. A lot of our clients have residences here. So it's very important for secondary homes and there are a lot of commercial projects as well, like hotels and apartment buildings. Miami has always been a good market for us in terms of the end consumer.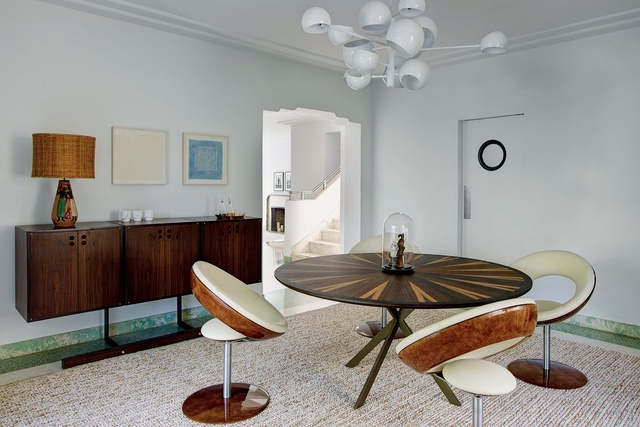 "I wouldn't consider myself a huge fan of Art Deco, but the house is really unique and it's so rare to find a villa like this," says Weishaupt. "I was actually looking for an event space and thinking about how to better connect with the Miami market, so I was touring around with a real estate agent and we came across this house. I never intended to purchase anything for myself down here but it just happened. I fell in love with the villa and decided to buy it."
The house dates from 1932 and was designed by architect Martin L. Hampton, who also designed Miami Beach City Hall. The villa sits upon a small island in Biscayne Bay between Bal Habour and South Beach, which features a golf course bordered by leafy residential streets. Easy access to downtown Miami and the airport made the prospect of buying an even greater temptation for Weishaupt.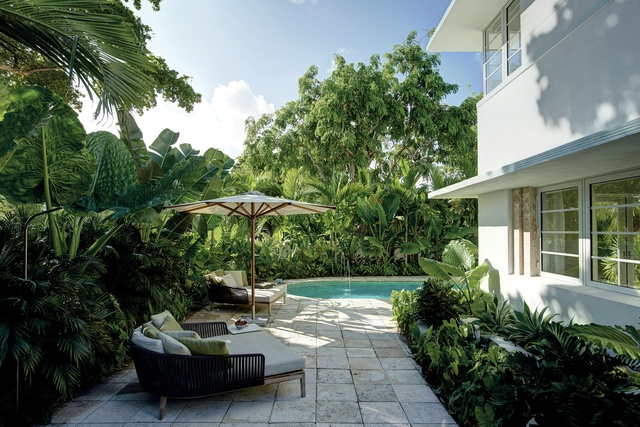 "An older gentleman had lived here on his own for quite some time and it was a little neglected," says Weishaupt. "But I liked the intimacy of it and thought it was a very interesting house in how it was laid out in this cross shape with the gardens around it. It had a certain charm but just felt a little sleepy. Everything needed freshening up."
Weishaupt managed the renovation himself and was keen to preserve as many original features as possible, including the sitting-room fireplace, the staircase and the colourful terrazzo floors and skirtings on the ground floor. This meant few changes to the floor plan itself, although some subtle changes were made upstairs. The windows needed to be upgraded, with the striking circular window in the sitting-room prime among them. Outside, the pool was restored and the landscaping refreshed, while the boundary wall was also rebuilt. Integrated balconies and garden terraces provide outdoor rooms to be enjoyed all year round.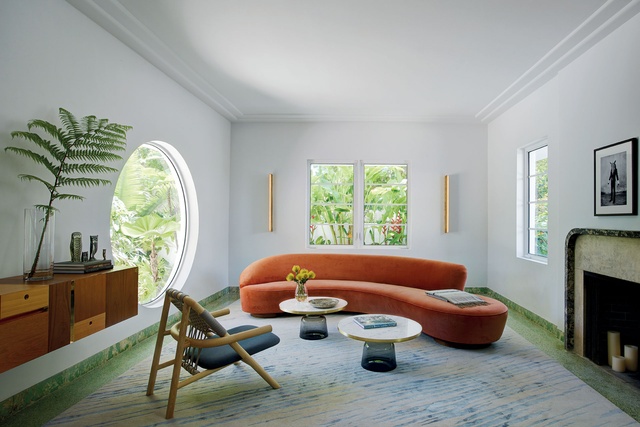 Inside, Weishaupt had the pick of his company's own collection but also introduced a number of vintage pieces. There are also tailored versions of a number of key designs, including a selection by Christophe Delcourt.
"I wanted to show our designers' work in the house, but I also wanted my own environment to be different," Weishaupt says. "So it's quite a fine line, because I don't want it to be another showroom. We managed to achieve a balance that I'm happy with and Christophe created a number of custom pieces, like the seating for the breakfast area by the kitchen and the desk in my office."
Weishaupt expanded the idea of Miami as a meeting point between the Americas, drawing on both North American designers and a number of Brazilian pieces, including vintage designs and more contemporary pieces by Carlos Motta and Isay Weinfeld. The result is fresh and original, while every piece is given plenty of room to breathe within the generous scale of the rooms themselves.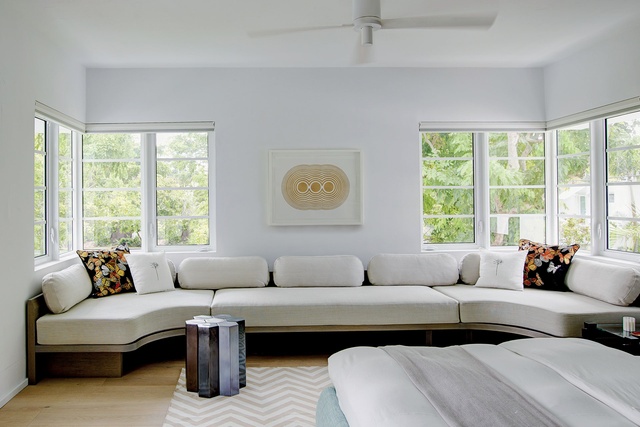 Weishaupt can easily fly from either Toronto or New York, with a two-and-a-half-hour flight and a quick link to the airport at either end. He visits at least twice a month in the winter and once a month in the summer, spending longer periods with friends during the vacations. It is certainly the perfect house for entertaining, but also flexible enough to never feel overwhelming if Weishaupt is at home alone.
"What I really like about it is that although the house is a decent size, it never feels like a grand mansion," says Weishaupt. "Because of the layout it does actually feel quite intimate. I use all the rooms in the house and it never feels too big. Early morning I love sitting outside and having my breakfast and I definitely use my office, the kitchen – everywhere. It is very charming, inviting and special."