Editor's pick: Vintage darling
On the eve of their fifth anniversary, vintage furniture darlings Mr Bigglesworthy are celebrating by showcasing their first-ever New Zealand collection. Urbis caught up with Dan and Emma Eagle to talk shop.

Dan and Emma Eagle had been hoping to put together a collection devoted to New Zealand-made furniture from the late '40s to '70s for close to four years now.
"We always have a place for local design but it is hard to find enough good pieces to fill the entire store," says Emma. That is, until a stunning (albeit heavy and utilitarian) coffee table with a mosaic tabletop by John Crichton opened a 'floodgate' of high-quality pieces by the likes of architect Tibor Donner, Garth Chester and Imi Porsolt.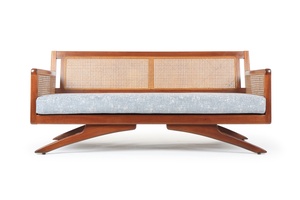 Although the main furniture designers in the collection were European migrants, the Eagles insist there are unifying elements. Local weather, materials, craftsmen and limited access to tools gave these Pan-Pacific Modernists a unique flavour.
According to the Eagles, the '50s were particularly fertile years in which lifestyle was bringing a change in the proportions and interior architecture of the homes – forcing furniture to shift from bulky and ornate to more streamlined and functional.
"Much of the early stuff is quite utilitarian but there is a beauty is simplicity," says Dan. "You see some of these things and sometimes you don't immediately think 'wow, that is awesome', but 'that is kind of nice'. It's like some pop songs… sometimes you hear it and you instantly like it, while some others are not so immediate and the more you listen, the more you start seeing things inside it and that opens up a larger narrative and things you haven't seen yet."