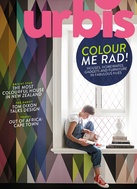 April 2013 (Issue 73)

Designer Rebecca Snelling talks to Urbis about Douglas + Bec, the homewares brand she created with her dad.

Store-owner Ron Redel's collections of fantastic furniture and objets d'art fill his Auckland home.

Angie Masutti injects colour and pattern into vintage furniture from her rural Whangarei home.

A home on Waiheke Island features bright, bold architectural details and an impressive collection of colourful art.

A new hotel in Penang, Malaysia, welcomes guests into a candy-coloured fantasy world.