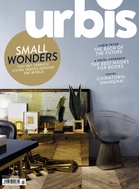 June 2013 (Issue 74)

Think small with the latest issue of the magazine, dedicated to tiny spaces.

Rotorua's Kelly Thompson has filled her Melbourne apartment with pretty sentimental things and pieces of her own artwork.

The men of Box Living chat about small floor plans, modular homes and the nascent New Zealand urban-bach movement.

Charlotte Minty is spreading the gospel of durability, utility and beauty as part of her Wellington interior design practice.

Shanghai is a paean to 'Bigger is Better', full of hustle and bustle – and home to creative people inspired by its energy.

This kiwi landscape designer is right at home in the middle of Shanghai.

Design director and interior architect Simon Park sings the praises of his adopted home town.

Led by his interest in mechanical image making, Robert Poll has produced some strangely organic images.