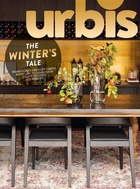 August 2014 (Issue 81)

Kirsten Matthew meets a young Auckland duo making their own furniture and fostering a collective of local creatives.

We meet a New Zealander who has spent her architectural career working all over the world.

Brenda Briand, bad extraordinaire, reveals her most prized possessions.

Sprawling, sunny and scattered with stunning architectural gems, La La Land is the place to escape to this winter.

Urbis chats to Los Angeles-based graphic designers and boutique owners Rachel Berks and Marise Suárez-Orozco.

Meet Los Angeles-based interior architect, David Loyola.