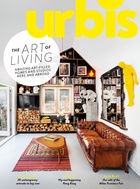 June 2014 (Issue 80)

We've gone all arty with this issue of Urbis.

The ever-impressive Hip Group adds another culinary and architectural flower to its bouquet.

Urbis talks to Auckland artist and homewares designer Chris Pearson.

Miranda Harcourt shows off her impressive collection of art.

Painting and architecture coexist in the work of Michael Lowe.

There's more to this former British colony than shopping and ethnic food. Read about one of the most exciting cities in Asia.

An Illustrator, designer and Feng Shui expert chats to Urbis about her career.

Hong Kong-based architect and partner at HEAD Architecture Mark Panckhurst chats to Urbis about his career.

Enjoy Ostro's Urbis cocktail and win a $100 bar tab at Ostro and a subscription to Urbis magazine.

A Canadian artist digitally covers rooms with details from famous paintings.