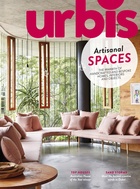 August 2015 (Issue 87)

The architecture of Japanese houses has developed from imported styles since prehistoric times.

Designer Aaron Pollock and artist Mickey Smith show us their new home and a selection of their favourite objects.

Urbis met with potter Laurie Steer, whose playful and intuitive personality finds its way into his work.