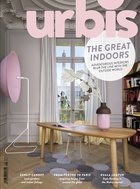 February 2016 (Issue 90)

Fast-rising restaurateur Mimi Gilmour opens the doors to her home and shares some of her most cherished objects.

Through a clever mix of materiality and context, interior designer Rufus Knight is amassing an impressive list of work.

Kathleen Kinney talks with three award-winning landscape designers about New Zealand gardens and asks them what makes a great outdoor space.

Incredible street food and never-ending shopping are two of Kuala Lumpur's most famous virtues, but dig a little deeper and you can also find an edgy side to Malaysia's capital city.

Meet Justin Lim, an artist who believes the role of art is to raise more questions than it answers.

Mr. Bigglesworthy has just released a new collection titled New Futures.