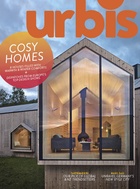 June 2016 (Issue 92)

Tim Rundle, former head of design for Tom Dixon, chats houses, expat life, and a passion for quality and craftsmanship.

Justin Foote speaks to Kiwi-born architect Antony Martin about his work and design aesthetic, and how he came to settle across the Tasman.

Thomas Hamel, leading eye in the international design world, speaks about his views on creating warm spaces and his upcoming visit to New Zealand.

Urbis meets James and David Ardinast, restaurateurs from Frankfurt.

Urbis meets bar owner Sonja Schmid, who runs the casual yet on-trend Plank, in the heart of Frankfurt's red-light district.