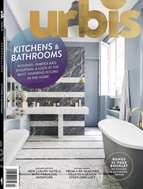 August 2017 (Issue 99)

The luxury carmaker's CEO recently visited Auckland to talk growth.

Musician Jennifer Zea and food entrepreneur Thomas Dietz open the doors to their home.

Weaver Chris Duncan and his partner Joe Yen talk about their craft and running a unique, creative endeavour in the middle of a bustling city.

Sharon Stephenson talks to Daniel Whitaker and Emma Ransley, the pair behind The River: designers and makers of wooden furniture in the Windy City.