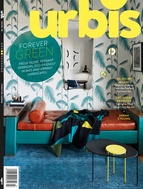 June 2017 (Issue 98)

Urbis reviews Upgrade: Home extensions, alterations and refurbishments, published by Gestalten.

Dean Cornish explores green gadgets, forms of transport and a smart watch with design credentials.

London-based designer and furniture maker Cassandra Ellis mixes nature and timelessness in her own home. Here, she shares some of the objects she loves.

A Kiwi creative director residing in a small, green, island oasis outside of Hong Kong shares some of the items she loves.

Sharon Stephenson talked to Wellington illustrator Hannah Webster about her passion for capturing New Zealand forests.

Leanne Amodeo speaks with Melbourne interior designer David Flack, known for delivering high-end hospitality, retail and residential projects of strikingly lush colour and strong materiality.