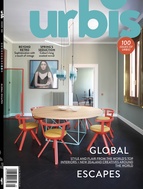 October 2017 (Issue 100)

This issue of Urbis marks our one-hundredth. 

We look at some high-end apartments, both completed and in construction, around Auckland.

New York restaurant Saxon & Parole is launching in Auckland next year. We caught up with its owners, the directors of the global and highly lauded interior design firm AvroKO.

Behold this treasure trove of travel technology. These road gadgets might have been unimaginable just a few years ago, but now they'll be competing for space in your suitcase (except for the one that's actually a suitcase).

This idyllic site on the water's edge in Mahurangi East, just an hour's drive from central Auckland, called for a home that tapped into the calm serenity of the area.
A meticulously crafted, small building that is constantly transformed both manually and by the natural light and waters that surround it.