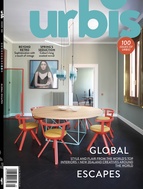 October 2017 (Issue 100)

This issue of Urbis marks our one-hundredth. 

We look at some high-end apartments, both completed and in construction, around Auckland.

Dean Cornish talks to fashion designer Wayne Sørensen about the path that took him from Whangarei to an idyllic home in the arid hills of Portugal.

New Zealand fashion designer Joanna Hadfield and her photographer partner Andrew MacPherson show us their home above the Hollywood Hills in sun-drenched California.

We meet Nicola and Christopher Cox, a British and New Zealand couple who are producing sculptural furniture and lighting inspired by nature, art and antiques.

Towing the line between classic and modern, this Italian apartment explores colour and form in a completely refreshing and somewhat romantic way.

Patterns and textures inspired by falling rain, wood grains and leaves in the breeze.

Totem poles for the modern home inspired by Italian architect Ettore Sottsass and the delicious colours of spring.