Furniture designer Ed Cruikshank in profile
Like many local residents, Ed Cruikshank first came to Queenstown not for work, but to ski. The furniture designer's rather romantic tale, however, begins with the decade he spent with bespoke furniture company David Linley as a senior designer in his native Britain. While still there, he got back in touch with an old friend and fellow ski-bunny, Tonya, who had moved to Australia. "We fell in love over email and had our first date in Hong Kong," he laughs now. The couple's son was born the same week they moved to Arrowtown, five years ago.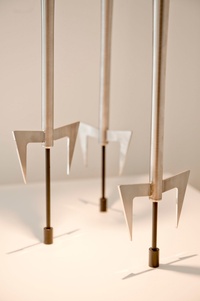 "It's a great hub," says Cruikshank of the small historic township. "It has an established local community, but also an international reach. Because we're here, our customer base is totally global — more so than if I'd been in central London. You get these amazing people visiting, and I get to be involved in a really enjoyable part of their lives."
One of these is art dealer David Teplitzky, who became Cruikshank's biggest client after a five-minute meeting about a ski rack, commissioning all of the furniture for his local apartment and then a house, including a modernist, museum-quality gallery space to accommodate his extensive art collection.
The association has also given Cruikshank's work a new direction. He has always emphasised the traditional, built-to-last ethos behind his contemporary pieces, but recently the designer started producing art-based furniture as well. His circular, revolving 1821 table, inscribed in Braille with a quote from Martin Luther King Jr, appeared in the roundabout? exhibition last year in Wellington, and will travel to Tel Aviv this year.
cruikshank.co.nz