In focus: Branch Studio Architects
Branch Studio Architects is an award-winning architecture and design practise based in Melbourne, known for its design-based philosophy and projects that are created uniquely to fit with their site, environment and use. Rebecca Gross spoke with director Nicholas Russo about the firm's work and philosophy.
Rebecca Gross: When did you and Brad Wray establish your studio?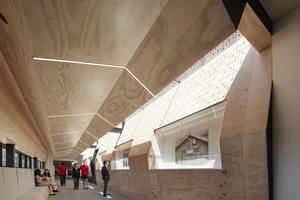 Nicholas Russo: We established Branch in 2012. Brad and I studied at university together, after which we headed in separate directions and worked in different areas. Brad emailed late-2011 that he was looking for other opportunities. I called him and we decided it might be the right time to start our own practice. We both wanted to run a practice; at that time we didn't have the skills or requirements to do so individually, but collectively we did.
RG: How would you describe the work your practice produces?
NR: We work across a number of scales and typologies; the main two being residential and educational. As a small practice we're able to be versatile and every project is an opportunity for a well thought-out design approach. Our work is always contextual, comes from a place that is informed and researched, and has material integrity. Our approach to materials is very consistent with Balnarring Retreat in that we like buildings to reflect their true materiality.
RG: Where do you find inspiration for your projects?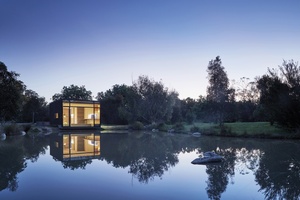 NR: Our inspiration is multifaceted. We have a lot of heroes in architecture, art, design, music, film; but we also find inspiration from clients, context and project-specific elements. We never have a preconceived idea of what we're trying to do; rather it's enriched by the client's experience or the site or a combination of the two.
RG: Do you have a design philosophy?
NR: We like to talk about design being generated from an idea meaningful to the project: a single element, characteristic or concept that cleanly and concisely informs the whole building.
RG: What role do you believe architecture and design can play in our everyday lives?
NR: We are very lucky to have lots of education clients, including schools in lower socio-economic demographic areas. The end-users, being the students, are potentially kids who don't come into contact with architecture thinking and I feel it really does influence them consciously and subconsciously.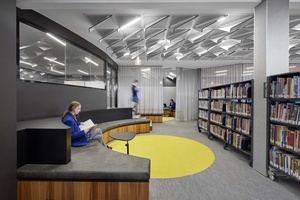 One of our first school projects was a library conversion, and borrowing doubled or tripled after it was finished because students wanted to use the building again. To be able to affect people's everyday lives by offering good architecture to those who may not come into contact with it every day is super rewarding.
RG: What are you most proud of in your work or practice?
NR: We are proud that we never rest on our laurels with our work. Every project is an opportunity to do something better and create architecture that we can be proud of.