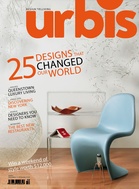 April 2011 (Issue 61)

Urbis checks out five stylish new restaurants that look as inviting as the food they serve.

Though almost forgotten during her lifetime, one of the most significant female designers of the early 20th century deserves an ovation.

An insight into how Derek Lockwood, Director of Design for Saatchi and Saatchi thinks about creativity, and why 'design' is meaningless.