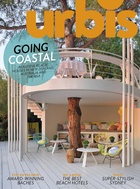 2014 (Issue 78)

This new edition of Urbis hits the shops today. Read all about it.

Wellington's Valentina Dias shares her prized possessions in her Wellington home.

London-based New Zealander Bridie Hall talks about her very British homewares.

New Plymouth-based architect Murali Bhaskar blends history and modernity into his designs.

This Greek Island resort is luxury without pretense.

Meet the interior designer behind Sydney's mega-café, The Grounds of Alexandria.

Meet the architect behind Sydney's White Rabbit Gallery.

Meet Christchurch expat and furniture designer, Cameron Foggo.