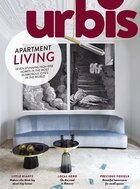 April 2015 (Issue 85)

Meet Martin Brown, Wellington shopkeeper and apartment dweller.

Dominic Hoey meets Urbis' best makers of 2014 – Bridie Picot and Matt Smith AKA Thing Industries.

Two Queenstown architects, who have made energy-efficient design their mission, talk to Justin Foote.

Meet the individuals carving a creative soul onto this cultural and tourism mecca.