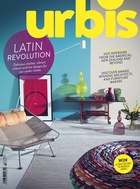 April 2016 (Issue 91)

Urbis reviews the recent opening of Fisher & Paykel's Experience Centre in Sydney.

Everyone who is anyone in the furniture and interiors gig will be heading to Milan for Salone del Mobile, 2016.

Urbis talks to Argentine artist Eduardo Navarro about not being totally in control of his artwork.

Chaotic yet elegant, sophisticated yet edgy… This city thrives on extremes.

Urbis catches up with Guadalupe García Mosqueda, restaurateur at Casa Cavia in Buenos Aires.