A new theatre collaboration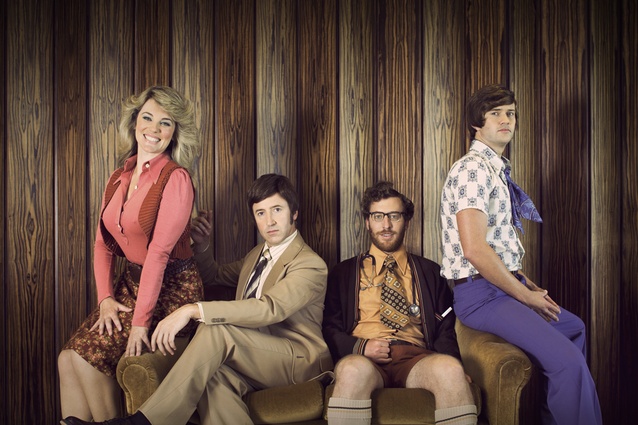 Last Thursday I went to the new Silo Theatre production Did I Believe It? The traditional theatre location was scrapped in favour of Britomart bar 1885 (and will be at the Foxglove Ballroom in Wellington in May). A play in a bar was a fun idea, and cocktails included with your ticket added to the excitement. Created by Oliver Driver, Jodie Molloy (writer of the Jacquie Brown Diaries) the play was a collaboration with vodka company 42Below.
Now, it must be hard for theatre to keep going in this country, and the people involved are certainly doing it for love rather than money, so I was pretty happy to see a clear sponsorship arrangement here. I mean, good on the Silo for making something like that work.
The basic premise plays homage to the sort of science edutainment programmes like Experiment that dominated the goggle box from the late 1970s. Four characters are co-hosts in Did I Believe It? embracing stereotypes, prejudices and naiveties of the decade. In this episode they discuss vodka.
Even throughout the first half, despite the feeling that theatre had been overtaken by a brand, and it feeling a bit uncomfortable at times, I was still open to the collaboration, happy that while the entire show was about vodka, 42Below had the style and confidence to not need to harp the point about themselves exclusively. And the play was funny. There were some terrific lines and character portrayals (in particular the guy who reminisces about his wild days in 'London' on 'the Tube') and the acting was fun and well done. The whole thing has a camped up, seventies feel, and the four characters interact well. Favourites were host / investigative journalist Gavin Bachelor played by Adam Gardiner and in-the-closet stud Chad-Lee Window played by Dean O'Gorman.
Perhaps most importantly, it was a fun night out. Taking theatre into a bar, and letting them drink cocktails throughout added a new dimension to theatre. I would imagine people who wouldn't usually go to plays would be keen to go to this, and that has to be a good thing.
So, there were many pros. However, my enthusiasm for the 42Below umbrella waned significantly in the second half. So much for the subtle sell. In comic script, the play morphed into a brand run-down of the vodka company. All funny, but there was a distinct, sticky feeling that you had just paid to watch an advertisement, and unfortunately, that was much of what we were left with. But of course, others would disagree, many others preferred the second half to the first. So, really, you'll have to head along yourself to find out.
Did I believe it? is on until 30 April in Auckland, and in Wellington between May 3-12, bookings through ticketmaster.