A rear-drive, mid-engine Alfa concept coupé reviewed by Urbis magazine.
Alfa Romeo is back in adventurous mode, promising a pint-sized coupé for 2012 that is closely based on this lightweight concept. Styled by Alfa design head Marco Tencone, the 4C is an in-house creation that was heavily influenced by the dramatic Alfa 8C supercar of 2006 (see sidebar).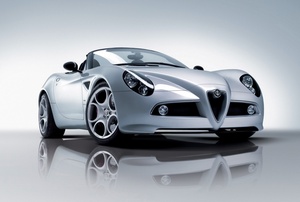 The layout and construction are quite different, though. The rear-drive 4C has a four-cylinder engine mounted behind the driver and its chassis includes a high-strength carbon-fibre core sprouting steel-aluminium structures. The drivetrain – a direct-injection turbo and twin-clutch gearbox – is already used in the Alfa range, which will help make the car much more affordable than the low-volume 8C. Agility and performance should be exceptional with 60 per cent of the 850kg weight centred over the rear wheels.
At just 4m long, the 4C is about the same length as a small hatch. It pinches 8C styling cues such as the crisp V-shaped grille, telephone dial wheels, curvaceous rear haunches and bold, circular tail lights above round exhausts. Air vents and lights are surrounded by unpainted carbon that hints at what's beneath the skin. A mid-engine layout meant Tencone had different proportions to work with in the car's profile and it is layered with deeply defined sweeps and troughs. The bulging rear bodywork gives an impression of great muscularity around the axle that harnesses the power. 
Open the small door, ease yourself over the broad sill into the moulded racing seat and you enter a cocoon of carbon