Andrew Kerr marvels at the muscular but weight-conscious Quattro Concept.
It's been 30 years since Audi's seminal four-wheel drive sports coupé, the chunky Coupé Quattro, first hit public roads. A plastic-bodied version of this bluntly styled brute snaked its way to the forefront of 1980s world rallying while road car variants offered a new type of performance motoring years before genuine rivals reached the market. The Quattro gave Audi a valuable sub-brand with lasting traction.
Featured here is the modern interpretation. Clearly designed to stir enthusiasts' emotions, it started out as a concept car project to celebrate 100 years of Audi. The Global Financial Cris delayed development, so the design that was finally revealed at the Paris Show benefited from a longer gestation period. Audi design head Stefan Sielaff oversaw numerous detail modifications to the shape, firming up the lines along the curved flanks and around the rear pillar in support of the upright front pillars, trademark glasshouse and dramatically flared wheelarches. Other key visual ingredients are the four nasal intakes up front, rectangular head- and tail-lights, prominent rear wing, a reduced wheelbase (based on the Audi RS5 platform) and a simple instrument panel. The body colour was switched from silver to crisp white and the thin-spoked 20-inch wheels are titanium silver.
Lowering the roofline and sharply reducing the rear overhang has made the packaging tighter and added muscularity to the proportions. However, the weightconscious modern Quattro is strictly a two-seater. An aluminium spaceframe clad in carbon-fibre panels helps keep weight down, as does a turbocharged five-cylinder engine with a manual gearbox. A technical first is LED headlights that vary in aperture and from horizontal to vertical in shape. Conventional indicators make way for amber streaks at the front and moving yellow brackets at the rear.
The car's proportions mimic the original Coupe Quattro. Like the original's powerplant, the engine is an in-line fivecylinder, turbocharged to produce 300kW. Audi says that's enough to propel the lightweight coupe to 100km/h in four seconds flat.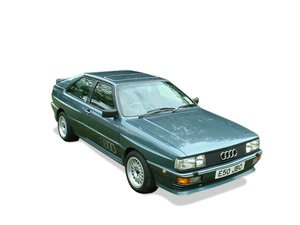 THE ORIGINAL QUATTRO  (1980)
Some have joked that the team who designed Audi's early- 80s coupe were inspired by origami. The only things that don't appear crisp and angular in Martin Smith's update for the Coupe Quattro are the blistered wheelarches and wider wheels they house. Also crisp was the power delivery of Audi's turbocharged in-line five-cylinder with its typically off-beat engine note. The beauty of this practical two-door was in its completeness – bold looks, flexible performance, plenty of grip, and four seats and a boot made it a real-world wunderkind. The car debuted at the 1980 Geneva Show. For many, quattro meant an introduction to the magic of surefooted fourwheel drive, a layout to which Audi has remained firmly committed.