Ingrid Starnes at Fashion Week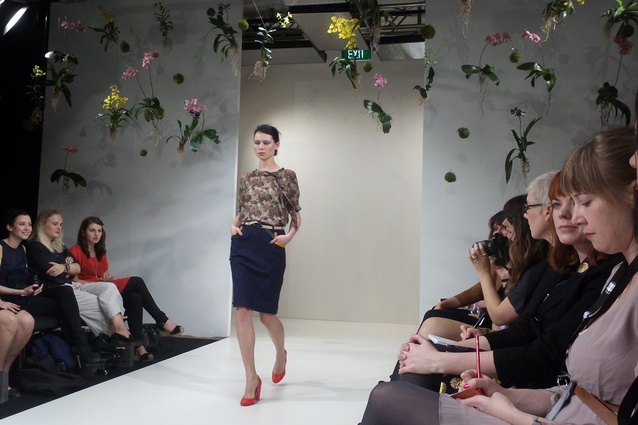 Usually designers are far more focused on just getting the clothes down the runway to dress up the runway itself. But in Ingrid Starnes' beautiful Fashion Week show, she had a floral installation by designer Xanthe White (who has recently shown at Chelsey Flower Show, and has been part of Urbis Designday). Suspended orchids and balls of moss were the perfect backdrop to Starnes pretty but fashion-forward winter collection. It was also a nice tie in with Tessuti, who have recently opened their new store in collaboration with Ingrid Starnes.
Her collection seemed much larger than her previous ranges, and the designer has pushed out into new territory: winter coats and separates as well as the delicate, vintage-inspired dresses she is most well-known for.
The palette included a bright mustardy yellow, white, as well as a lot of navy. This is a winter collection for those of us who want a stylish alternative to black, and want pieces that are tailored enough for work, but pretty enough to wear out to dinner. Immensely wearable, but you could also see Starnes pushing out of her comfort zone as well. This is a label that will only continue to grow and grow.