A Kiwi creative director residing in a small, green, island oasis outside of Hong Kong shares some of the items she loves.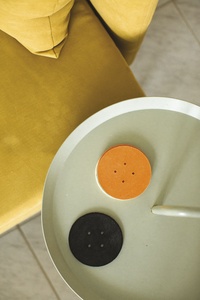 Lamma Island (yes, pronounced a bit like the South American, funny-coiffed mammal) is about as close to the New Zealand beach experience as one can get in Hong Kong. It is perhaps no surprise then that Auckland-born creative consultant Kate Jones has made her home there.
Jones is the powerhouse behind Hong Kong creative consultancy At Liberty and also runs an online store called get.give, which sells a collection of beautiful everyday objects for gifting. In her spare time, Jones co-runs rug company Kahoko, which sources rugs from local weavers in Kenya, with all the proceeds going back to the community.
Her Lamma Island home is a place to unwind from work and travel. The island can only be accessed by a 25-minute ferry ride from central Hong Kong, has no roads or cars (except for a few emergency-service vehicles) and is alive with birds, tropical palms… "and snakes", she says with a shiver. Pythons, King Cobras and other such fear-inducing creatures are a part of the island's ecosystem.
The building code in the island of 6,000-or so-inhabitants means that each house has a similar layout and is made from the same building materials. Jones says she made a decision to embrace the quirks of the house and to surround herself with books, art and objects that she loves.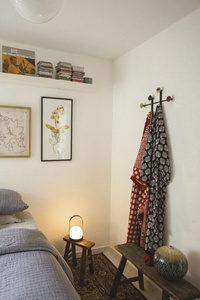 "I come home: I totally zone out. I call my kitchen a camping kitchen as it has a camping stove – really low, Chinese style. The bathroom and tile work are not something I would usually choose and I could have decided to gut it and redo it but I just enjoy the imperfections. I have lots of visitors coming to stay, bringing in sand from the beach, so I don't need to worry about things getting ruined. Art is a big part of the décor I collect. I like to have that as my focal point."
A 'normal day' for Jones is something of a misnomer, but she tends to wake early to meditate, then get onto emails before heading out to work, which could mean a photo shoot and styling for At Liberty, or a series of meetings, which she says Hong Kong locals are fond of.
"It's really varied. I travel a lot for work, so I am probably in Hong Kong for about two weeks out of every month. It's very cosmopolitan here, and you tend to hear more people speaking French than Cantonese. I actually compare Asia a lot to New Zealand because I think New Zealand is very forward and very original in design. Here, people are only just starting to embrace local design. For a long time it was always about overseas talent, which was held higher than local talent."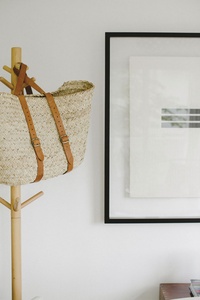 Jones is currently occupied with a hotel group and shooting brands for the social media of the high-end luxury shopping mall Landmark. She is also working on projects for get.give in New Mexico and Japan, including exploring a new resort housing concept.
"The idea is people can come and stay in these unique accommodations in either Santa Fe or Japanese traditional-style dwellings. We are curating them so there is one of each thing you need, everything out on display, no storage. It's a way to enjoy being a collector, but minimalist at the same time. It's a bit of an experiment."
That same idea of 'curated space' is evident in Jones' own home, bringing to the space that casual, comfortable, almost low-tech feeling of a stay at a New Zealand bach… just with a few more reptiles to deal with.