Interview: Jonathan Richards
Director of SJB Interiors in Sydney, Jonathan Richards chats to Leanne Amodeo about all things kitchen and bathroom design.
With offices in both Melbourne and Sydney, how would you describe SJB's overriding aesthetic?
We're essentially a contemporary design company and so we enjoy things that are of the moment. SJB Interiors uses details that are new and we try to be innovative in our approach because we want our residential interiors to feel like private places of calm, while still having a contemporary style.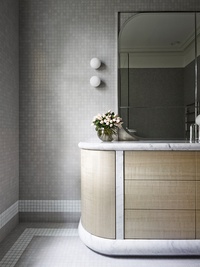 How important are finishes and details in achieving a design outcome that melds both form and function?
Although we enjoy innovation, we're also mindful of not being innovative just for the sake of it. We don't just give clients details that are unnecessarily expensive or complicated: we're seeking a refined result and the finishes and details are really what it's all about. At no point in the process do we say, 'Let's just do what we did last time'. Rather, we make sure everything is considered and works well together. We speak to the client about what they want from their kitchen or bathroom and that's how we achieve a great result.
Your residential projects are renowned for their luxe materiality. Do you have a particular philosophy that informs your material choices?
As an example, both Kirsten Stanisich (my SJB Interiors co-director in Sydney) and I love natural materials; there's a lot of beauty to be found in them and in products like terrazzo and concrete. We'll also rarely use a polyurethane paint finish because it feels featureless, and often if we paint a kitchen we'll ask the builder to hand-brush the walls, so you can see the brushstrokes. It's about achieving a compositional balance so that each room has a calmness to it.
How did you arrive at the design concept for the bathroom of Private Residence (Sydney), which expresses this sense of calm particularly well?
The bathroom of this project does have a lovely spatiality to it, with refined details and colours that lend it a softness and elegance. We were subtle in our approach and the space's rounded edges allow for a beautiful play of natural light. It's also in an old home and I guess we wouldn't have come up with this design if it were in a modern house, because the scheme does tip its hat to the building it's in and to the client, who it suits just perfectly.
Are there more challenges involved in designing a kitchen or bathroom?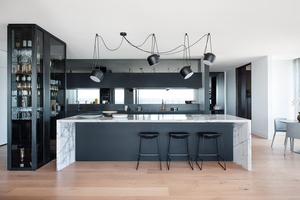 I think bathrooms are more challenging because they're the smaller of the two areas and there's less to work with. There's also a lot of pragmatics involved; so, trying to achieve something unique and tailored to the client can be tricky.
What do you consider SJB Interiors' strength in bathroom design to be?
Kirsten and I have a love of interior design history and we also visit the Milan Furniture Fair each year. Our inspiration comes from many different places and we draw on old and new to come up with a bathroom design that's nothing quite like what the client expected. We see interiors from an architectural perspective – so it's not just about applying finishes, it's about sculpting a room. And it's also about having knowledge on different design possibilities so something can be pulled together with lots of creativity.
Do the same strengths apply to your kitchen design?
Yes, they do. We also don't want to become lazy in our approach to interior design and simply use the same finishes and materials and keep on drawing on the same references. Our skill lies in doing things differently each time so we can give clients a unique result.
Do you see the trend for open-plan living areas that incorporate the kitchen diminishing anytime soon?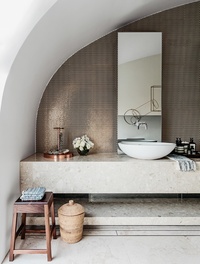 There's going to be more interest in clients having a separate kitchen to the living and lounge rooms. Personally I prefer a kitchen that's separate to these areas so it doesn't feel like your pots and pans are falling into the living room. At SJB Interiors, we often use design to celebrate the thresholds between rooms so there's a sense of movement from kitchen to living room and lounge room. The idea of opening up these rooms and putting everything in the one space works sometimes, but in many instances we like to be clever about it and have a connection while still celebrating the purpose and specific function of a room.
What makes the Pacific Lighthouse bathroom so successful?
That bathroom works well because it's a very sculptural space; the whole floor has a vaulted ceiling, which made it very tricky to work with because it curves from knee height. It meant we couldn't put artworks on the walls, but it's my favourite part of the room because it has such a sculptural shape to it. The scheme's finishes are all about 'beach glam'; it's nice and casual, but also reflective and glamorous. It's a high-end apartment in Bondi, where backpackers live beside millionaires and this juxtaposition is what I was trying to achieve in the interior's design.
What do you think the big trend in kitchens and bathrooms will be for 2017?
I do think we'll start to see more colour in kitchens and bathrooms because we've had a period where they've been quite neutral; colour will be the natural reaction. Standard finishes and materials won't be relied upon so heavily and we'll also see more playfulness in designers' selections, with more unusual stones and granites used as benchtops or splashbacks.