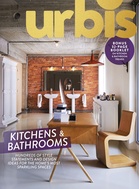 October 2016 (Issue 94)

Award-winning chef and the mastermind behind Cassia Restaurant, Sid Sahrawat and his wife, Chand, show us the objects they love.

Director of SJB Interiors in Sydney, Jonathan Richards chats to Leanne Amodeo about all things kitchen and bathroom design.

Like Russian Matryoshka dolls, kitchens and bathrooms are miniature projects within projects. And, with the trend to concealed pantries and cleverly hidden storage, the surprises just keep coming say Tim Dorrington and Sam Atcheson of Auckland's Dorrington Atcheson Architects.

Poise is a collection of sculptural utensils "designed purely for beauty and elegance," according to designer Daniel Kamp.