Amsterdam-based creative studio Steinbeisser has been turning a few heads recently with its series of Experimental Gastronomy events. The initiative is driven by a search for new ways to enjoy food by creating highly curated, entirely bespoke dining experiences.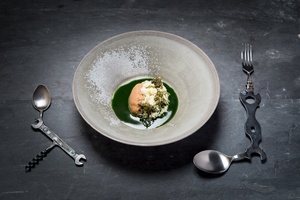 Renowned chefs and international artists come together to create a one-of-a-kind experience that puts design, gastronomy and nature in an exciting new context.
In addition to the completely plant-based food creations, Steinbeisser commissions artists to design dishware and cutlery pieces – which do not follow the normal rules of usability – for every event.
More than 35 international artists, including Nils Hint, Maki Okamoto, Stian Korntved Ruud and Tala Yuan, have contributed designs during the four years the event has taken place.
Dinners are planned for San Francisco and Amsterdam in the coming weeks, and versions of this peculiar cutlery can now be purchased online.