Designed to match: Part 3
In the third of a series, Urbis teams up with Fisher & Paykel to explore creative collaborations.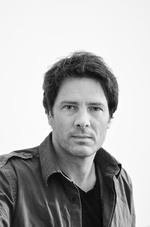 John Irving 
Architect
Tell us about this kitchen.
This was a really fun project where we had great clients, who were happy to push the boat out a little. It is out the back of a conservation-zoned villa, and this is unquestionably the least sympathetic addition I have ever done! The arrival journey is cutesy, frilly, white tra-la-la, then down the hall, then 'bam!' The idea was that you would stand there in disbelief at the matt black – so an all-metal kitchen was the only logical choice.  
Tell us about your collaboration with IMO.
We admire their work, they are great designers and cool to deal with, plus the whole modular thing appeals as well. The Fisher & Paykel appliances fit quietly and confidently in the modern angular composition.  
There is a danger of making a space too gloomy by combining concrete with dark materials; how did you counterbalance this?
Light! The kitchen is pretty much the only wall; otherwise it is all glass around it. Gloomy is not an option! 
What was your first reaction to the activation that Angus Muir did to the space?
'Ground Control to Major Tom'! I like its other-worldly quality, on a spaceship, sirens blaring… it's a billion miles away from Victorian suburbia.
Angus Muir
Designer
Tell us about your ideas for this photo shoot?
They were centred around wanting to create some stunning shots of the kitchen and Fisher & Paykel appliances – but, at the same time to veer away from your traditional product or purely architectural photo shoot. Creating some establishing, wider shots and then some more detail on the appliances in the kitchen environment. We introduced some interesting ceramic forms – to break up the space and give it a storyline across the shots. 
What was it about the space and/or materials that made you want to light it in this way?
We were dealing mainly with one large plane. We used a controlled palette of colour to accentuate different parts of the kitchen and fridges. The matt-black cabinetry was perfect for absorbing light – when hit from different directions – creating great depth of shadow and colour. 
What was your favourite aspect of this kitchen?
The large, expansive matt surfaces – these both absorb the light and don't reflect too much. We were able to have multiple light sources to create interesting shadow play. The use of dry ice was successful also in adding some texture to the shoot.