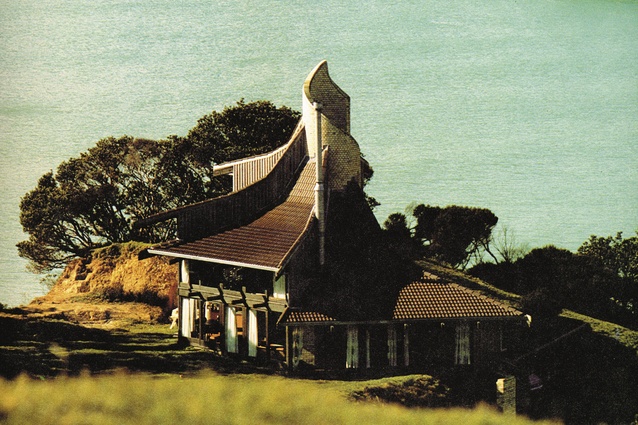 For years we would head up to my husband's family bach at Woolies Bay in Northland and, once settled in, walk over to the nearby surf beach, Sandy Bay. Nowadays you can order fresh churros and virgin pina coladas from the Havana Cabana but for years Sandy Bay was just where the local surfers congregated. Occasionally, we'd walk up the road, hop a little fence and pick our way down a steep incline to a nearly deserted little beach. It is here on the point between Sandy Bay and the private bay that this unusual dwelling perches. For years we thought it was a Buddhist monastery. I don't know why that occurred to us, apart from the fact that the curlicue turret seemed un-house-like and faintly Eastern and its introverted, private position ideal for solitude and prayer.
It wasn't until a friend saw a snap of Woolies Bay at our place and told us about his grandparents' place near there – a circular, curly-turreted house on this point at the far end of Sandy Bay – that we found out it was a house and, beyond that, the work of celebrated architect Neville Price.
Designed in 1974 for himself and a friend and their families, Price was also involved in the building of it, carting concrete and nailing studs over two summers to build it. Because two families used it, and not always at different times, the house was designed to ensure privacy through separate occupancies within the single structure and this influenced the radial structure of the home. Structural walls spiral out from a central stair at the core (which twists up to the top and becomes the iconic coil of the roof form). The living spaces fit in between these ribs – a low single story to the south and then, as the roof steps upwards as it arcs around, two stories at the north. With the stair core in brick, and the dominant roof in brown tile, this house is markedly '70s, but its form is so unique it stands out as a moment of architectural whimsy (in all the best senses of the word) for this decade.