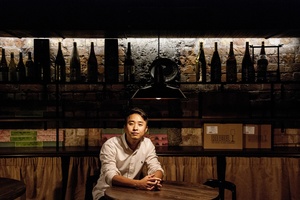 Dajiang (DJ) Tai of Cheshire Architects was announced winner of the hotly contested Emerging Design Professional category award at the 2014 Interior Awards evening at Ponsonby Central, Auckland, on 26 June.
According to the jury panel: "if the individuals who entered this category are indicative of where the industry is heading and – thanks to their potential contributions – the future texture of our cities and towns, we are in for some very exciting times". The wide variety of entrants made the category particularly difficult to judge but DJ came to the fore "because of a combination of artistic prowess and sheer drive," said the judges.
His hands-on approach, and attention to materials and details is most visible through his work on various award-winning hospitality venues (including Ortolana, Café Hanoi, Xuxu, among others).
DJ was awarded a $1,000 cash prize (presented in a Youmans silver capsule) and a bespoke trophy designed by Minka Ip.
Jury Citation:
DJ's ability to capture the essence of the space he was designing through exquisite watercolours and atmospheric renderings enabled the concept and passion to be spread across everyone working on the project. Using his own words: "If you believe in the first watercolour sketch, it is just about committing to it and making it happen". This is the clear vision and creative methodology that endeared the judges to his work. Also, his commitment to the overall design process became blatantly obvious when he presented to the judges and spoke – with fondness – about the almost-poetic nature of midnight cranes moving containers into a building site. His emphasis on art as the driving force behind his designs, his infectious enthusiasm and an already-impressive body of work make him one to watch.
Full coverage of 2014 Interior Awards winners here.