An oasis of calm and style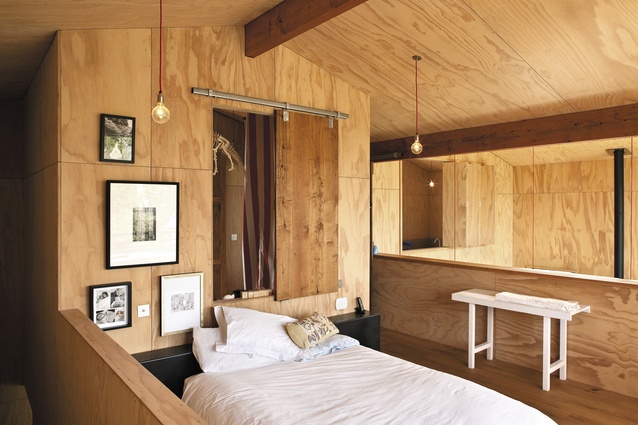 Built on a very tight budget, this home was designed by the owner and architect, Davor Popadich, for his young family.
The mezzanine bedroom overlooks the lounge down below, and the walls are a continuation of the plywood that lines the entire interior. The timber obviously gives warmth to the space, but also a rustic and playful feel that indicates this is serious architecture that needn't take itself too seriously.
Because of the tight budget, the house has been designed so that they can add on a couple of bedrooms once they have some more money. When the house was designed, they had their first child on the way, and so the plan was made to be flexible: the open room behind the bed is actually their baby's room though, once the addition is finished, this will become a generous walk-in wardrobe.
The plan was foolproof until they had a second child before they were able to start on the addition. Oh well, necessity is the mother of invention and all that. What allows this room to work so well despite what must be some element of chaos in the house is the simplicity of the space and the furnishings.
There are white bed linens, a few framed photographs, some necessary storage, but anything too cluttered hasn't set in here, and the result is an oasis of calm and style in this happy family home.