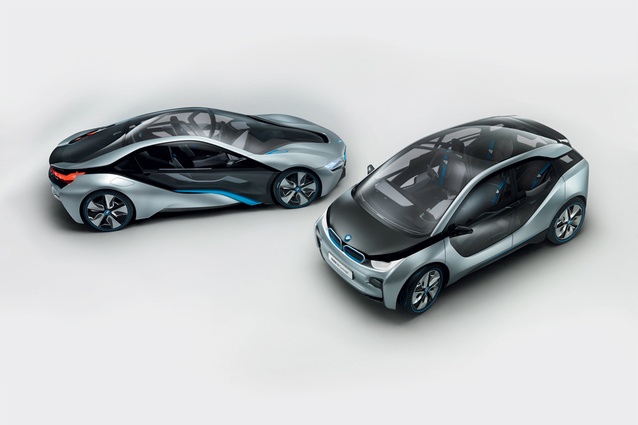 BMW's far-sighted i3 and i8 show a commitment to an alternative-energy sub-brand that the maker says will be an incubator for technology that could transform the way BMW makes all its future cars.
The plug-in, electric i3 hatchback will be first to go on sale as early as 2013. It's a compact but luxurious four-seater that uses plastic reinforced with carbon-fibre and sits on an aluminium chassis. These lightweight materials help cancel out the weight of the i3's underfloor battery pack and liquid cooling system. It will be sold with the option of a petrol-powered, range-extending engine that acts as a generator to charge its batteries and dramatically increase its 160km range.
Lightweight components are also a feature of the sleek i8, a four-seater coupe with supercar performance. It is powered by an electric motor at the front while a three-cylinder petrol engine drives its rear wheels. The sprint to 100km/h takes 4.6 seconds.
"The i3 and i8 might look very different," says Benoit Jacob, head of BMW i Design, "but they share the same creative mindset and both introduce new aesthetics. They show that e-mobility can be highly attractive and offer something very special."
He acknowledges that the new technology is giving designers more creative freedom. "One feels that the rules are changing; there is a bit of a rebirth for car design, a chance to rethink the car from the beginning."
Jacob says the i3 and i8 designs were influenced by themes of efficiency and light weight. "This experience has to be visible, so you see it in the airy interiors, in the window surface [areas] and even the aerodynamic elements."
The i cars feature thermoplastic elements fixed on carbon structures.
"They represent greater production efficiency in every aspect … there's no stamping of metal panels, for example, and most materials are recyclable." A bonus, notes Jacob, is that small knocks sustained in carparks are easy to correct because thermoplastic panels return to their original shape.
"The technology, construction techniques and materials allow plenty of possibilities for differentiation … to make more desirable, highly emotional cars. But the goal is also to make cars that are more clever and responsible, with a harmony between function and design. We made no trade-offs in this respect, even on the i8."
When asked for an example of groundbreaking design, Jacob nominates the i3 interior, the result of an "inside-out approach" that began with considering the users, designing the interior around their needs, then applying the technology and designing the exterior to support the whole idea.
"i cars must be special, they must have a different character and a different look. But it's not good design if you don't understand people's requirements, so we wanted to deliver more space, more safety, more added value. The i3 is much more than a clean, electric car … the future is in this car and it must make my time on the road more valuable!"
Underlining the importance of the new i cars range, Jacob insists it's no longer a luxury to work on cars like these but an obligation. "i cars will pull people to the forefront of technology while the interiors will deliver a certain feeling … They won't drive an i3 aggressively, so the cabin is peaceful with a lounge or loft feel that encourages you to drive in a relaxed fashion. Its controls and displays are very intuitive, it supports connectivity, there's a lightness to the structure, the design elements support functions. The i8 is a sportscar for enthusiasts, so it's naturally more driver focused."
Jacob says the biggest challenge in the design process was "defining the creative mindset", which involved blending premium BMW quality with sustainable values. "We combined 'premium' and 'sustainable' in the phrase 'Next Premium', and this ultimately describes the i-cars mindset, our design culture."