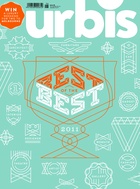 December 2011 (Issue 65)

An angular upper storey plays along with its neighbours, while a glass base throws a bit of welcome chaos into the mix.

The creative director who started graphic studio Inhouse Design talks to Urbis about the design process.

Art and objects mark landmarks in the life of this couple.

Two concepts that kick-started BMW's 'environmental' sub-brand also stole the limelight at the recent Frankfurt Motor Show.

An appliance that is used more times a day than an oven and a dishwasher.