Contemporary and well-considered Queenstown house
Architect Stacey Farrell designs a house for herself and her partner that cleverly makes the most of a small space.
Queenstown's a lovely spot, but like most resort towns the houses are of two sorts: there are your big, comfortable places slathered in schist, supposedly to blend in with the landscape, and then the ordinary things the rest of us live in, generally little different from anywhere else in New Zealand. So this little house by architect Stacey Farrell and her partner is neither sumptuous nor suburban; it's a refreshing whiff of subalpine air.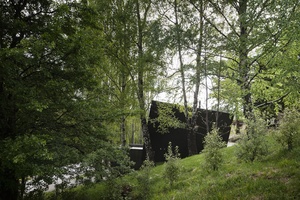 Set on a site that seems beautifully pastoral, a little mountain meadow, you wouldn't guess it's been for sale for 25 years and covered in blackberry most of that time. But the effort the new owners put in clearing the site is also reflected in the realistic approach to the architecture. A simple black box sheathed in Colorsteel, it looks like it's tumbled down the hill and might lurch forward into the Arthur's Point gorge sometime soon. Rather than trying to be picturesque, there is a crispness and clarity to the design that responds to the real Otago landscape. This is a rugged environment, rocky hillsides inexorably tumbling towards slithering rivers; and this little house, poised on the slope, seems all the more tranquil for knowing its place in all this.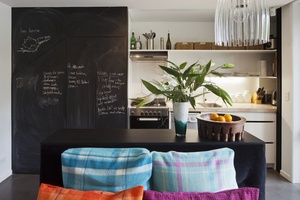 Its simple design is reinforced by the black and white colour palette but this is not as severe as it seems. Sympathetic to the birches and poplars of its surroundings, a little bit of green sneaks in where Farrell made 'cuts' through the shell, mimicking through colour the way moss grows up between rocky boulders. The place has the feel of a contemporary lodge, a retreat in the hills. Of course it's small, and though it's only stage one of a larger project to go on the site, for now it happily accommodates the two of them. Small houses take quite a bit of skill to design and, as you'd imagine, it helps when the designer lives with the client. Indeed, in their former apartment, they mapped out the plan of their house on the floor to check if there was enough space in the kitchen and dining areas. Storage and screening need to be carefully organised, but here there is a place for everything from hairdryer to suitcase.
Small houses also need to be well thought out in terms of hiding the mess when visitors arrive, and as this couple also work from home it's critical to be able to just shut the door on all that as well. Garages may seem a luxury for a low budget, high-spec house, but can be enormously useful in absorbing not just cars, bikes and tools but all the other paraphernalia associated with the New Zealand lifestyle.
This is a lovely, modest but well-considered house, contemporary but suited to its environment and its occupants. Our landscape could do with more like it, whether it be Queenstown, Kaitaia or Bluff.