An insight into Lucy Tupu's passion for design
Urbis: How would you explain what you do?
Lucy Tupu: I am passionate about design and how things work – I think and work intuitively. My design process is as important if not more to the way I design than the result, so when I work I have no set goal or outcome in the beginning but rather a set of ideas to explore. This way it challenges my own design knowledge and capabilities. I like the outcome to evolve through experimentation with no end point but rather stages where the ideas can continue to unfold. I love how free I can be with furniture and the scale that I am able to work in, and I've always been interested in exploring organic and natural forms. I see all my work as 'work in progress' – a continual exploration of ideas.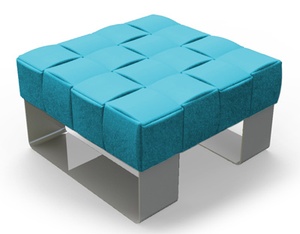 U: What is your background? How did you become a designer?
LP: When I left school I trained as a chef and worked in restaurants in New Zealand, London and Australia over a period of ten years. Cooking was a creative outlet for me but I always knew that it wasn't creative enough so I explored other design disciplines and found industrial design. I completed a six-month foundation course at Wellington Polytechnic and instantly knew this was the direction I wanted to take. I then studied and completed a bachelor of design with Honours in Industrial Design at RMIT (Royal Melbourne Institute of Technology). My exploration for my honours project involved using different mediums to express different types of emotions. I struggled with naming my project for a long time but through experimenting with these different mediums I finally arrived with a title for my project, which helped define my journey or that part of the journey – 'expressive furniture'.
U: You have New Zealand and Samoan heritage – does this influence your work?
LP: I have very strong connections with New Zealand and Samoa and even more so now that I live in New York. My heritage definitely has an influence on my work whether it is intentional or not. For example, weaving is very much a part of the Samoan and Maori culture. I have always loved the art of weaving and have been inspired by the simplicity and utilitarian aspects weaving brings to both cultures. This was an obvious starting point for me for the flax range and now I am looking to further the flax collection by exploring more traditional Polynesian qualities to try and capture the inherent beauty that weaving allows.
U: Has the move to New York changed the way you work, or offered different opportunities?
LP: My first job in New York was an eye opener into the opportunities that were possible. I worked in a Paul Rudolph house in Manhattan on the Upper East Side. The owner was a collector of mid-century furniture and my job was to help package these art pieces to be transported as he was moving. I was honoured to be working in an extraordinary apartment and felt very privileged to see original pieces of furniture and admire them first hand.
I felt very lucky and left each day so inspired. I still have moments like this wherever I am in New York.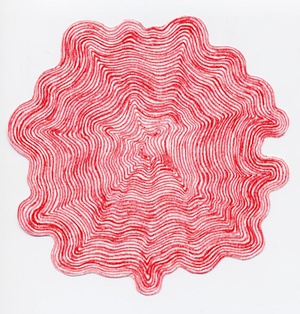 U: Colour features prominently in your work – why is this?
LP: It's simply because I love colour.
U: What are you working on at the moment?
LP: I'm working on new rug designs for essenze.
U: What has been a highlight in your design career so far?
LP: Travelling to Samoa with my parents in 2002 and being involved with building a toilet and shower block for our family village. I was able to use my skills as an industrial designer to help improve the life of my Samoan family.
It was an incredible experience and a life-changing one.
U: Who do you admire?
LP: There are so many people who influence me, it's a bit of a mix. From architecture, Antonio Gaudí, because of the organic curves he incorporated into his buildings. Frank Lloyd Wright, who also deftly combined a soft humanist element even into his more rectilinear projects. Alvar Aalto, whose work again has a softeness and naturalness. Frank Gehry, for pioneering complex curves in design, and Eero Saarinen. The ability that artists have to articulate an idea or a feeling is also inspiring. Olafur Eliasson, a Danish-Icelandic artist, has done some inspirational pieces about public space that I admire. Salvador Dali's colourful, surreal works are a natural inspiration for my designs as is the work of photographer, Julius Shulman. In terms of furniture design, the concept of celebrating everyday objects and design for everyone that underpinned the work of Charles and Ray Eames' work is inspiring. Italian Joe Colombo is another terrific designer, and I admire fashion designers Valentino and Alexander McQueen for their use of colour, drama, presence and innovation.